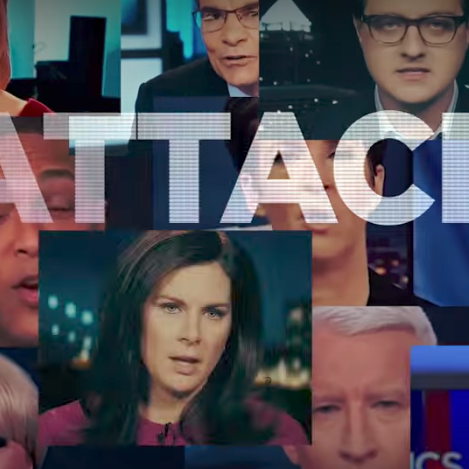 Photo: Screencap/Trump Campaign Ad
A day after President Trump urged Americans to "come together with love for our nation" in the wake of deadly violence at a white-nationalist rally in Virginia, the White House released a (very early) reelection ad that labeled Democrats and journalists "enemies" and accused them of obstructing his political agenda.
The ad, a 30-second spot that seemed squarely aimed at Trump's shrinking base, shows Democrats like Senators Chuck Schumer and Elizabeth Warren, followed by an array of media figures, as a narrator intones: "Democrats obstructing. The media attacking our president. Career politicians standing in the way of success."
"But President Trump's plan is working," the narrator says, before pivoting to rosy unemployment figures, record-high stock-market numbers, and military readiness.
"The president's enemies don't want him to succeed," the narrator continues over a split screen of television personalities like CNN's Brian Stelter and MSNBC's Chris Hayes. "But Americans are saying 'Let the president do his job.'"
The commercial's timing was striking on two fronts: that it comes more than three years before the next presidential race, and that the White House chose to go ahead with it just hours after one of the most fraught days of Trump's presidency, when his failure to condemn white nationalists in Charlottesville drew widespread condemnation from Democrats and Republicans alike.