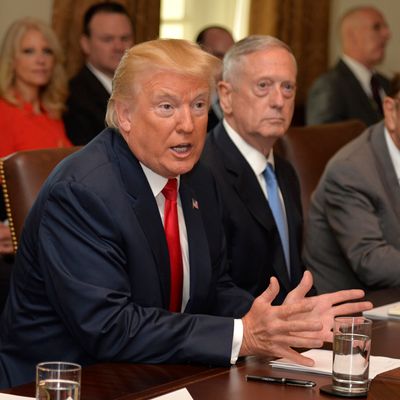 Finally, a businessman as commander-in-chief.
Photo: Pool/Getty Images
Receiving regular gossipy dispatches from behind the scenes at the White House is one of the few silver linings of the Trump administration. But the latest leak is too scary to be any fun. NBC News reports that during a July 19 meeting in the situation room with his top national security advisers, President Trump repeatedly suggested that General John Nicholson, commander of the U.S. forces in Afghanistan, should be replaced because we're not winning the 16-year war. He also asked about the U.S. taking Afghanistan's minerals, and suggested he wasn't getting good advice from top military officials.
Trump was reportedly influenced by a recent meeting he had with veterans who served in Afghanistan. To illustrate why he felt they may have better insight on an Afghanistan strategy than the generals, he told a story about the renovation of New York's 21 Club in 1987. Per NBC:
Trump told his advisers that the restaurant, Manhattan's elite '21' Club, had shut its doors for a year and hired an expensive consultant to craft a plan for a renovation. After a year, Trump said, the consultant's only suggestion was that the restaurant needed a bigger kitchen.




Officials said Trump kept stressing the idea that lousy advice cost the owner a year of lost business and that talking to the restaurant's waiters instead might have yielded a better result. He also said the tendency is to assume if someone isn't a three-star general he doesn't know what he's talking about, and that in his own experience in business talking to low-ranking workers has gotten him better outcomes.




The '21' Club, which has been one of Trump's favorite New York spots, closed for two months in 1987 while it underwent a full renovation and reopened to great fanfare.
Trump's advisers contend that the U.S. is losing not because they're out of touch, but because the president has refused to sign off on a strategy in Afghanistan. Last month the president delegated decisions on troop levels in Afghanistan to Defense Secretary James Mattis. At the time, Mattis said, "This decision is part of a broader strategy we are developing that addresses our role in Afghanistan and beyond. We will present this to the president in the coming weeks. We will continue to work with our allies and we will ask more of them."
But Trump was not happy with any of the options presented to him, and the military commanders' new authority to make tactical decisions isn't very useful if there's no larger strategy in place.
Mattis and Chairman of the Joint Chiefs of Staff General Joseph Dunford reportedly defended General Nicholson, who Trump has never met, during the meeting. In an interview with MSNBC on Wednesday, National Security Adviser H.R. McMaster claimed he "absolutely" has the confidence of the president.
"I've known him for many years," McMaster said of Nicholson. "I can't imagine a more capable commander in any, on any mission."
The New York Times reported on Thursday that while Trump remains undecided on an Afghanistan strategy, he has come up with a plan for yet another staff shake-up:
Mr. Trump, according to several administration officials, has been considering a shake-up that could include appointing Mike Pompeo, the C.I.A. director, to take over as national security adviser, while sending General McMaster to command forces in Afghanistan. Such a move could earn General McMaster a fourth star.
According to Politico, McMaster has been trying to sell Trump on an Afghanistan plan for months, but seems "out of sync with his mercurial president." Sending McMaster to deal with the Afghanistan situation himself is one very Trumpian solution to the problem.