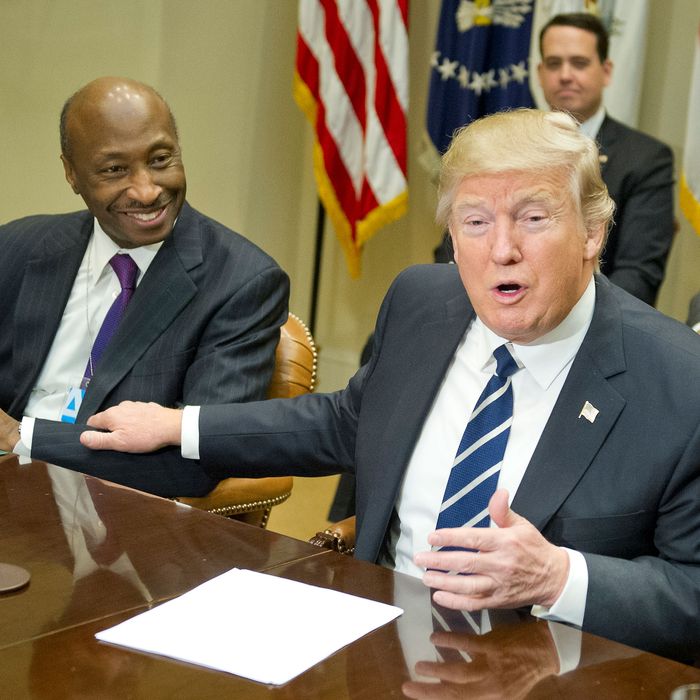 Merck CEO Kenneth C. Frazier with Donald Trump in January.
Photo: Ron Sachs - Pool/Getty Images
Kenneth Frazier, the CEO of pharmaceutical giant Merck, resigned on Monday from President Trump's manufacturing council because of Trump's refusal to explicitly condemn white supremacists after the weekend's events in Charlottesville, Virginia.
"America's leaders must honor our fundamental values by clearly rejecting expressions of hatred, bigotry and group supremacy," Frazier said in a statement.
Less than an hour later, Trump reacted with a tweet of his own, condemning Frazier for ripping off Americans with high drug prices.
Trump's tweet, sent 54 minutes after Frazier's statement, is a clear reminder of how forceful and direct Trump is when he's really angry about something. It stands in stark contrast to the statement condemning "many sides" that he gave Saturday as Charlottesville descended into chaos.
Frazier is one of only a few black CEOs of a Fortune 500 company, and he's been a frequent guest at the White House in recent months, joining other business leaders there at least three times since Trump's inauguration. He now becomes the fourth CEO to resign from one of Trump's business panels. Disney's Bob Iger and Tesla's Elon Musk both quit a business advisory panel over Trump's withdrawal from the Paris climate accord and Uber's Travis Kalanick quit after Trump's travel ban.