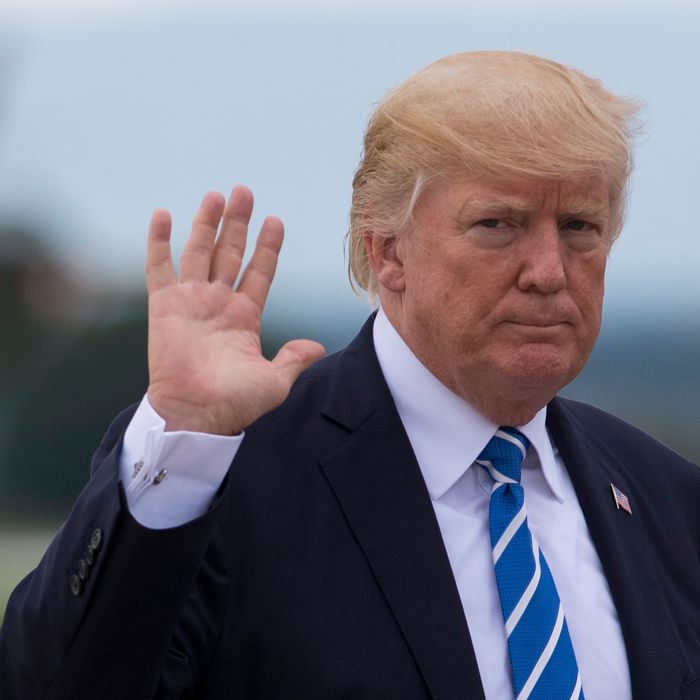 President Trump will be up for reelection in a little under 1,200 days.
Photo: Saul Loeb/AFP/Getty Images
Three new NBC News/Marist polls conducted after last weekend's violence in Charlottesville show Trump (and the GOP) faring poorly in the key states that put him over the top last November. According to the polls, the president's approval rate sits between 34 and 36 percent in Michigan, Pennsylvania, and Wisconsin, with his disapproval rates ranging from 54 to 56 percent. Perhaps even worse for the president, however, is that almost two-thirds of voters in those states said that Trump's conduct as president was an embarrassment, with only 25 to 28 percent saying that his conduct was making them proud. Six in ten respondents in the three states also said that the world standing of the U.S. has suffered under Trump.
All three states were ones in which Trump very narrowly defeated Hillary Clinton last year, with less than 80,000 votes across them ultimately deciding the election.
Of course, the NBC/Marist polls were also conducted from August 13–17, during arguably the worst week of Trump's presidency thanks to his widely condemned response to the deadly violence at a white-supremacist rally in Charlottesville, Virginia, the weekend before. Then again, it's also getting hard to keep count of how many worst-weeks the president has had thus far.
Trump's performance related to the economy did get a nod from majorities in Michigan and Pennsylvania in the polls, but not by much. There wasn't good midterm news for the Republican Party, either. A majority of poll respondents in all three states said they wanted Democrats to control Congress. That was most true in Michigan, where 48 percent of voters favored Democratic control, compared to 35 percent who favored the GOP remaining in power. The polls indicate that Democrats also have a ten-point advantage in Pennsylvania (47-to-37), and an eight-point lead in Wisconsin (46-to-38).