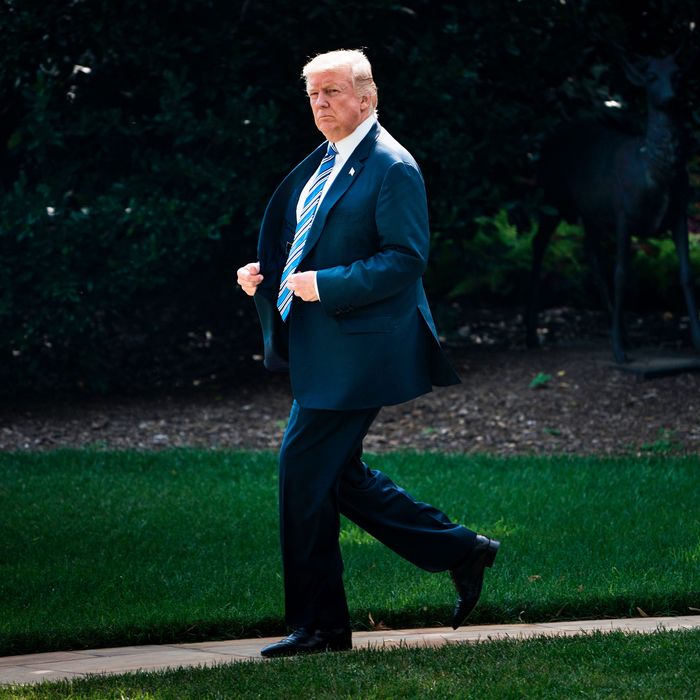 Trump.
Photo: Brendan Smialowski/AFP/Getty Images
Ten days ago, President Trump announced that General John Kelly would replace the feckless Reince Priebus as White House chief of staff. Kelly, it was written, would impose a rigorous, military-style sense of order on a chaotic West Wing, tempering President Trump's worst impulses, and maybe even vetting his twee – oh, never mind.
In the kind of unhinged rant it was clear to anyone paying attention that Kelly would not be able to prevent, Trump used his favorite social-media network to go off on some of his favorite targets Monday morning.
First, he peddled the lie that the New York Times had "apologized" for predicting the 2016 election incorrectly:
He then asserted that his "base" was getting stronger, despite weeks of polling to the contrary:
After assuring his followers that he was "working hard" from his golf club in Bedminster, New Jersey, Trump maintained his long-standing tradition of seething at whatever he just saw on television news, attacking Senator Richard Blumenthal for the second time this year over his Vietnam record — minutes after the Connecticut lawmaker appeared on CNN to discuss the investigation into Russian election interference.
Prior to his election as senator, Blumenthal claimed for years that he served in Vietnam, when in fact he received five deferments and never saw battle — a sequence of events Trump might be familiar with. (Blumenthal responded to Trump's taunts by accusing the president of "bullying.")
Remember, Trump is currently not on a 17-day vacation, and he's definitely not playing golf all day.