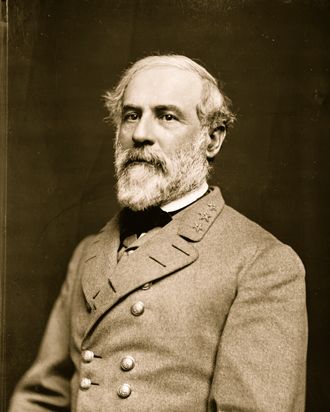 Just like George Washington, if Washington had rebelled against fellow Americans who wanted to end slavery.
Photo: Buyenlarge/Getty Images
After President Trump reverted to his claim that "both sides" are responsible for the violence in Charlottesville, Virginia, last weekend, the White House urged Republicans to say "the president was entirely correct — both sides of the violence in Charlottesville acted inappropriately and bear some responsibility." Most Republican lawmakers could not stomach this, and instead released new statements condemning white supremacy (or said nothing at all).
Fortunately, Trump can still count on his personal lawyer to stand by him – and then some. The New York Times reports that John Dowd, who leads Trump's legal team, forwarded an email on Wednesday promoting the ahistorical, pro-Confederacy argument that Confederate general Robert E. Lee and President George Washington are basically the same — nay, "there literally is no difference between the two men."
So what if the "ruling government" one man rebelled against was the United States, and he was fighting to preserve slavery?
The comparison between Lee and Washington was promoted by Confederates during the war, and the idea that Lee saved America by surrendering rather than resorting to guerrilla warfare is a key part of the South's "Lost Cause" narrative.
Dowd forwarded the letter to more than two dozen people, including a Department of Homeland Security official, journalists at Fox News, and The Wall Street Journal. In a brief phone conversation, Dowd told the Times, "You're sticking your nose in my personal email?" adding, "People send me things. I forward them," before hanging up.
The email was penned by Jerome Almon, who runs several websites promoting government conspiracy theories, such as that the FBI has been infiltrated by Islamic terrorists. Almon, who is black, also claimed in the email that Black Lives Matter "has been totally infiltrated by terrorist groups." He told the Times he sent the email following a phone call with Dowd last week on another issue of great concern to the president:
He said he had called to offer damaging information about James B. Comey, the former F.B.I. director, and to provide other information about the Justice Department's ongoing investigation into the Trump campaign.
This is great news for Trump's other lawyer, Michael Cohen, who merely tried to prove he isn't racist by posting photos of himself with black people on Twitter.