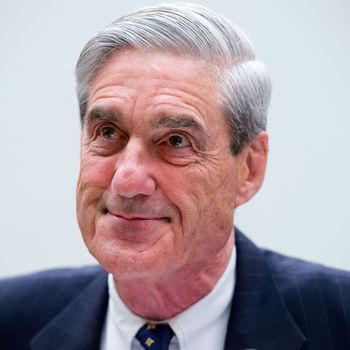 Mueller.
Photo: Tom Williams/CQ-Roll Call,Inc.
Donald Trump has called the special investigation into Russia's election interference a "witch hunt" led by "very bad and conflicted people." He has said that the (ostensibly bad and conflicted) special counsel Robert Mueller would cross a "red line," were he to start looking into the president's personal finances. Trump has publicly disparaged his attorney general — one of his earliest and most influential political allies — for recusing himself from the Russia investigation, and, thereby, enabling Mueller's appointment. And, according to the president's close confidantes, he has considered treating Mueller to his signature catchphrase.
But don't get the wrong idea: Trump isn't mad about Mueller's investigation — in fact, he appreciates it. And he's sent the special counsel "private messages" expressing his gratitude. Or so the president's new chief counsel tells USA Today:
"He appreciates what Bob Mueller is doing," Trump's chief counsel John Dowd told USA TODAY in an interview Tuesday. "He asked me to share that with him and that's what I've done."

Trump's legal team has been in contact with Mueller's office, and Dowd says he has passed along the president's messages expressing "appreciation and greetings'' to the special counsel. 




… For weeks, Washington political circles have been on high alert for the possibility the president could try to get rid of Mueller or otherwise wrest control of the Russia probe he denounces as a "hoax." 




Yet in a sign that forcing out the former FBI director overseeing the federal Russia investigation is politically untenable, a growing number of government officials have moved to tamp down any talk of ousting Mueller – including, apparently Trump himself.




"That's never been on the table, never,'' Dowd said of the possibility Trump might try to remove the special counsel. "It's a manifestation of the media."
That last bit is a blatant lie. Trump's interest in firing Mueller has been so conspicuous, Senate Republicans have agreed to keep their chamber "in session" throughout the August recess, so as to prevent the president from dispatching Jeff Sessions — and appointing a Mueller hit man as attorney general — while they're out of town.
Still, the White House's mendacity has rarely been this comforting. Trump does not "appreciate" Mueller's efforts. But he has, ostensibly, decided that he won't be able to get away with obstructing the special counsel's investigation.
Dowd's broader remarks are a bit baffling. The idea of Trump trying to charm Mueller through private messages is confounding — both because of the president's public defamation of the special counsel, and because the last time Trump delivered private messages to a law-enforcement agent investigating his campaign, he ended up triggering allegations of obstruction of justice … which Mueller is currently investigating.
Regardless, it's good to know that Mueller's job is, apparently, secure.