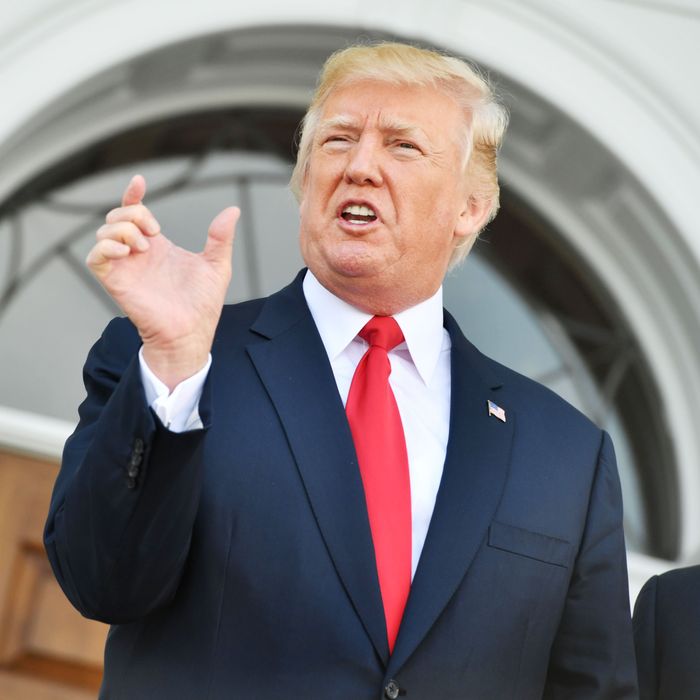 Tiny hands itching to press that button?
Photo: Nicholas Kamm/AFP/Getty Images
President Donald Trump, off the cuff, nearly threatened nuclear war on Tuesday, promising North Korea would be met with "fire and fury like the world has never seen." Pyongyang responded by promising to strike Guam, and followed up by setting a mid-August deadline for launching a ballistic missile toward the American territory. Meanwhile, the White House — acknowledging Trump hadn't vetted those remarks with "his" generals, let alone any other aides — tried to backtrack his tough talk, more or less telling the world to just ignore the president's outburst.
But Trump, not one to be ignored, decided Thursday to undo all that painstaking work, declaring that perhaps his "fire and fury" comments weren't "tough enough."
"Frankly, the people that were questioning that statement, 'was it too tough?' Maybe it wasn't tough enough," Trump told reporters Thursday at his golf club in Bedminster, New Jersey. "They've been doing this to our country for a long time, for many years. And it's about time that somebody stuck up for the people of this country, and for the people of other countries. So, if anything, maybe that statement wasn't tough enough."
"We're backed 100 percent by our military, we're backed by everybody and we're backed by many other leaders," he added. "And I noticed many senators and others today came out very much in favor of what I said. But if anything that statement may not have been tough enough."
When the reporter followed up, and asked what could be tougher than "fire and fury," Trump responded: "Well, you'll see. You'll see."
Trump would not say if he the U.S. was considering a preemptive strike — "We don't talk about that," he said, "I never do." — and explained negotiations weren't off the table, though he knocked each of his predecessors, dating back to Clinton, for their failures.
"The people of this country should be very comfortable, and I will tell you this: If North Korea does anything in terms of even thinking about attack, of anybody that we love or we represent or our allies or us, they can be very, very nervous," Trump said, not exactly reassuringly. "I'll tell you why, and they should be very nervous. Because things will happen to them like they never thought possible."
Meanwhile, the "many senators and others" who approved Trump's remarks did not include the more than 60 lawmakers who sent a letter to Secretary of State Rex Tillerson asking him to keep his boss in check on North Korea and to help the White House "understand the importance of speaking and acting with the utmost caution and restraint on this delicate issue."
It may be too late for that, but hopefully not to invest in that fallout shelter.