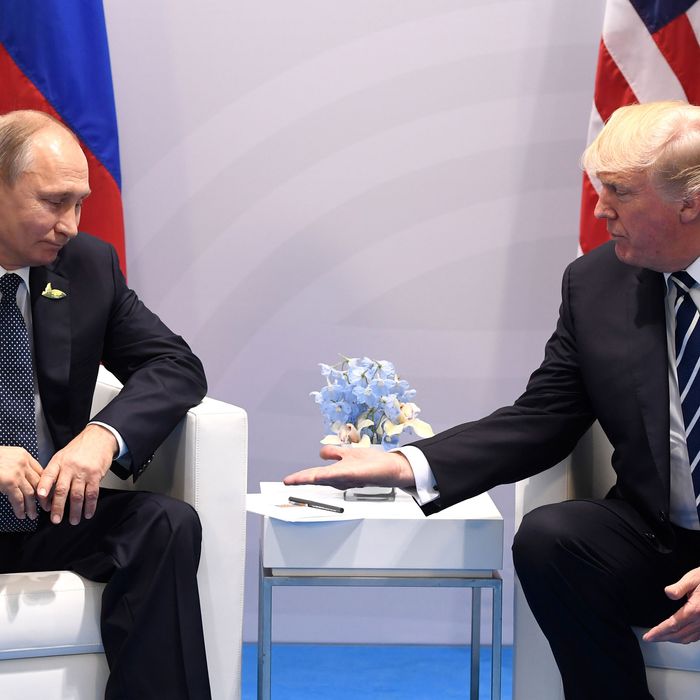 Put 'er there.
Photo: Saul Loeb/AFP/Getty Images
President Trump on Wednesday signed a bill leveling new sanctions against Russia and limiting his power to unilaterally roll back the punishments for Russia's hacking in last year's election. After passing the House and Senate with a veto-proof majority, the bill was going to become law with or without Trump's signature. But by signing it, Trump avoids the potential embarrassment of having his veto overridden by a Republican-majority Congress and the avoids the inconvenient appearance of favoring Russia.
Despite signing the bill, Trump has his objections, which he made clear in a statement that mostly focuses on the constraints it places upon his ability to alter the sanctions. Declaring parts of the bill unconstitutional, the statement says the bill infringes on the president's authority "to recognize foreign governments," among other things.
In a separate statement, Trump expressed reservations about the bill encroaching "on the Executive branch's authority to negotiate."
Congress could not even negotiate a healthcare bill after seven years of talking. By limiting the Executive's flexibility, this bill makes it harder for the United States to strike good deals for the American people, and will drive China, Russia, and North Korea much closer together. The Framers of our Constitution put foreign affairs in the hands of the President. This bill will prove the wisdom of that choice.
The statement closes, "I built a truly great company worth many billions of dollars. That is a big part of the reason I was elected. As president, I can make far better deals with foreign countries than Congress."
Though the bill sailed through Congress with bipartisan support, it's been highly unpopular around the world. Some European leaders have taken issue with sanctions targeting Russia's energy sector, which could harm some countries in the EU. Russia has also already retaliated for the penalties, with President Vladimir Putin booting hundreds of U.S. diplomatic staff members from the country and seizing the idyllic compound where U.S. diplomats in Moscow hold their cookouts.