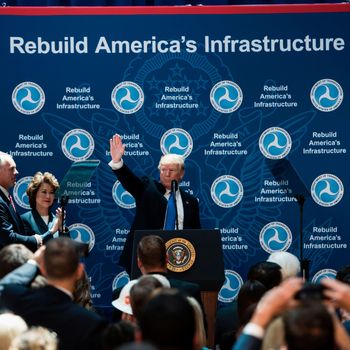 Infrastructure, weak.
Photo: Brendan Smialowski/AFP/Getty Images
President Trump on Thursday cancelled plans to put together an Advisory Council on Infrastructure less than a month after signing an executive order creating it. The White House didn't say why the council would disband before ever banding, but after Trump was forced to nix two other advisory councils this week in the wake of CEO defections, it seems possible that no one wanted to sit on the panel of a President who's about as popular as a crumbling bridge.
The cancellation of the council, which was supposed to advise Trump on his plan to spend $1 trillion upgrading bridges and roads across the nation, is only the most recent slight to the perpetually overshadowed mission of improving the nation's infrastructure.
Remember Infrastructure Week? It officially began on June 5, the day after Trump ripped London's Mayor hours after a terror attack on his city. Later, it essentially morphed into Infra-Fuck-It Week as Trump spent his mornings tweeting insults at Democrats and used his speeches to talk about health care, veterans affairs, and anything that interested him more than asphalt.
It also didn't help that the White House's crack messaging staff scheduled Infrastructure Week to coincide with the most highly anticipated congressional testimony in recent memory. As James Comey testified before the Senate Intelligence Committee on June 8, Vice-President Pence hosted governors and mayors at the White House, where he declared it a "banner week for infrastructure." Turns out, the banner never unfurled.
No wonder Trump tried again. Though this week didn't get the official White House designation of Infrastructure Week, Part Two, it was clearly supposed to mark President Deals' renewed push for a massive infrastructure overhaul. But on Tuesday, during a press conference scheduled to tout an executive order improving what Trump called "the nation's badly broken infrastructure permitting process," he decided to defend some participants in last weekend's Charlottesville neo-Nazi rally as "fine people."
By the end of the presser, Trump was all but begging reporters to ask an infrastructure question. When one reporter finally did, he answered by bashing John McCain for voting against the Senate GOP's health-care bill.