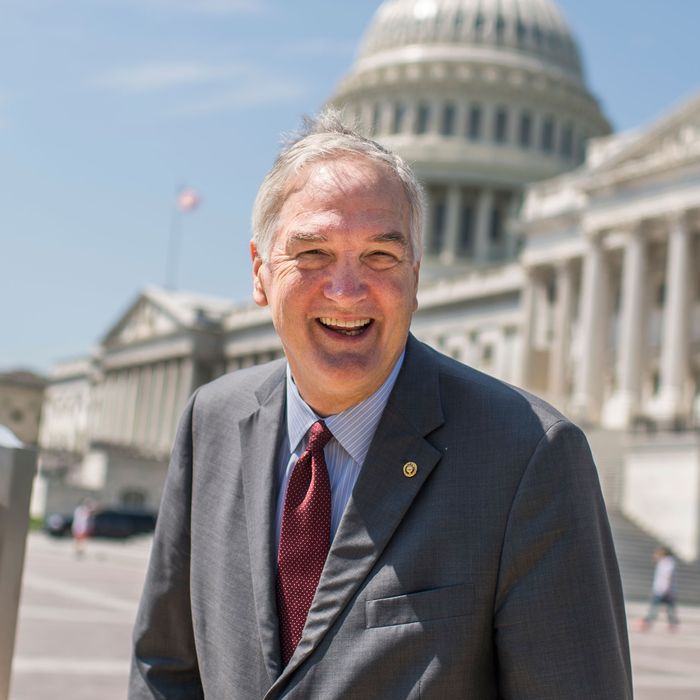 The campaign of appointed senator Luther Strange had been visibly struggling, but now he's gotten the only endorsement that matters.
Photo: Tom Williams/CQ-Roll Call,Inc.
Even as we all wondered whether the president's threat of "fire and fury" meant he might nuke North Korea, Trump launched the political equivalent of a preemptive strike into the torrid Alabama GOP Senate special primary next Tuesday, using Twitter, his preferred medium:
This was quite the coup for Strange, the appointed senator whose lavish financial backing from national Republican groups associated with Mitch McConnell hasn't kept him from languishing in second place in all the recent polls, almost visibly struggling to hang on and make a certain September 26 runoff. The one thing the three leading candidates for the nomination (Strange, Congressman Mo Brooks, and Chief Justice of the Alabama Supreme Court Roy Moore) have all agreed about is that Donald Trump is a heaven-sent agent for national regeneration, to be devoutly supported in all his aspirations. The White House had previously let it be known Trump wanted to stay out of this competition among MAGA enthusiasts. You have to figure something involving the president's turbulent relationship with McConnell made the difference in triggering this endorsement of his candidate. Mitch now clearly owes him one.
We haven't heard from Moore just yet, but Brooks was clearly stunned by the presidential embrace of the man he calls — in a Trumpian twist — "Lyin' Luther."
I respect President Trump, but I am baffled and disappointed Mitch McConnell and the Swamp somehow misled the President into endorsing Luther Strange.
An even more anguished reaction came from former Trump campaign Alabama co-chairman and state legislator Ed Henry, a Brooks supporter:
It's a sad day for Alabama when Trump lets the swamp dictate who he endorses for our Senator. We chose Trump to break the stranglehold the political elitists have on our Nation, not to have him tighten the grip. Sad, sad day.
It's unclear whether Trump's Twitter-dorsement was a one-off, or if he's planning more activities on Luther Strange's behalf (e.g., robocalls or more elaborate statements). But you can bet that whatever money Strange has left will be reengineered into making sure every Republican voter knows that the president he treats with such worshipful praise has made his face shine upon his servant Luther, and has blessed his candidacy in thought, word, and tweet.