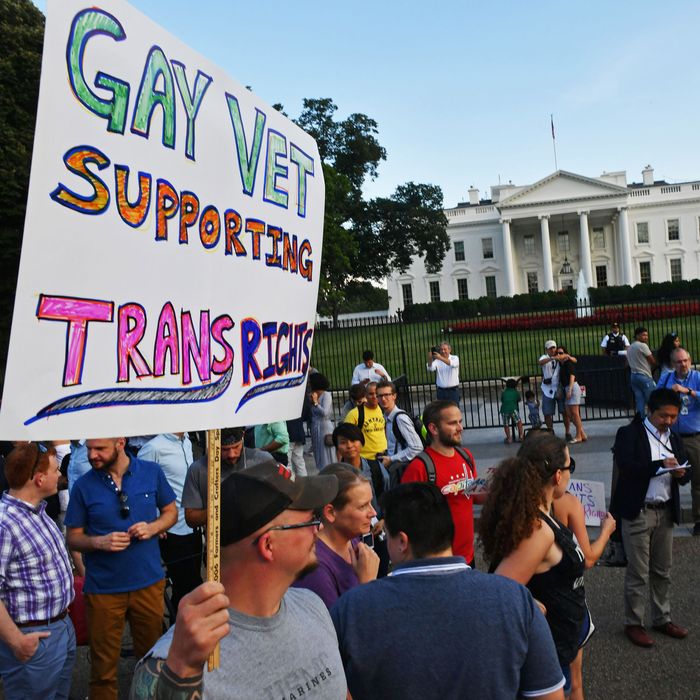 Protesting Trump's proposed transgender military ban in July.
Photo: Paul J. Richards/AFP/Getty Images
President Donald Trump signed an executive order that will bar transgender people from joining the military, CBS News reported. The directive, which the president first announced in a series of unexpected tweets last month, reverses the Obama administration's 2016 proposal to allow transgender people to openly serve in the armed forces.
Trump, however, is still leaving a fair amount of discretion to "his generals" — specifically Secretary of Defense James Mattis. According to the New York Times, Mattis will have the final say over whether openly transgender people who are active-duty soldiers may remain in uniform. That is not a guarantee that current transgender service members will be exempt from the ban — just that the Department of Defense will make the final call. The White House has directed the Pentagon to consider "military effectiveness and lethality, unitary cohesion, budgetary constraints, applicable law, and all factors that may be relevant" to make its final decision on the status of transgender individuals. Defense will have six months to submit a policy recommendation to Trump, with the deadline set for March 23, 2018.
The White House's memo will also reportedly preclude the military from paying for sex-reassignment surgeries, though transgender soldiers now in treatment are exempt, says NPR.
A White House official said the decision was based on "national security" considerations, though it likely has more to do with a congressional budget fight.
Former Secretary of Defense Ashton Carter announced that transgender people could join the military last year, and the policy was supposed to go into effect on July 1. But Mattis pushed back the start date another six months ahead of that deadline, and in between, Trump issued his Twitter directive.
Trump's initial tweets reportedly blindsided the joint chiefs of staff, and Mattis apparently only had a one-day heads-up. The Times reported that, while Mattis hadn't advocated for the Obama era policy, he also appeared to accept the change — as did much of the military brass. Which means it's unclear what will happen next for transgender men and women currently in uniform — though, at the very least, Trump's order will likely be immediately challenged in court.