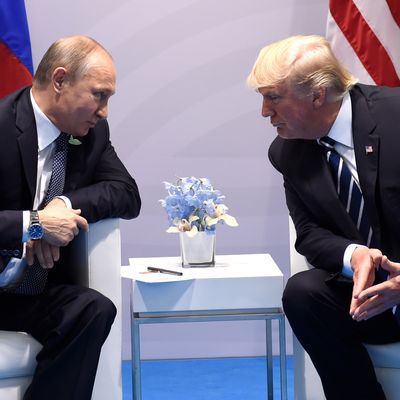 Plotting against so-called government waste?
Photo: SAUL LOEB/AFP/Getty Images
Besides "very smart" and "great leader," President Trump can add "government downsizer" to his list of Putin compliments. On Thursday, Trump, whose campaign is under federal investigation for possible Russian collusion in the 2016 election, responded to Russian president Vladimir Putin's orders to expel 755 American diplomats and technical staff from his country by offering his gratitude.
"I want to thank him because we're trying to cut down our payroll," Trump told reporters at his club in Bedminster, New Jersey. "As far as I'm concerned I'm very thankful that he let go of a large number of people because now we have a smaller payroll."
"There's no real reason for them to go back," Trump added. "I greatly appreciate the fact that we've been able to cut our payroll of the United States. We're going to save a lot of money."
Putin himself called his orders "biting," and intended to punish the United States for its tougher sanctions against the Kremlin for its meddling in the 2016 elections rather than introduce a creative cost-saving strategy — though it's probably not even true that it will save the State Department any money. The State Department, which had described Putin's move as a "regrettable and uncalled-for act," is already hampered by its skeletal staff. It's likely that a majority of the U.S. diplomats kicked out of Russia are career foreign-service officers who'll be reassigned to different posts. The rest are Russian nationals who work at the embassies in support and technical roles, and while their status is not clear, they'll probably at least be eligible for severance.