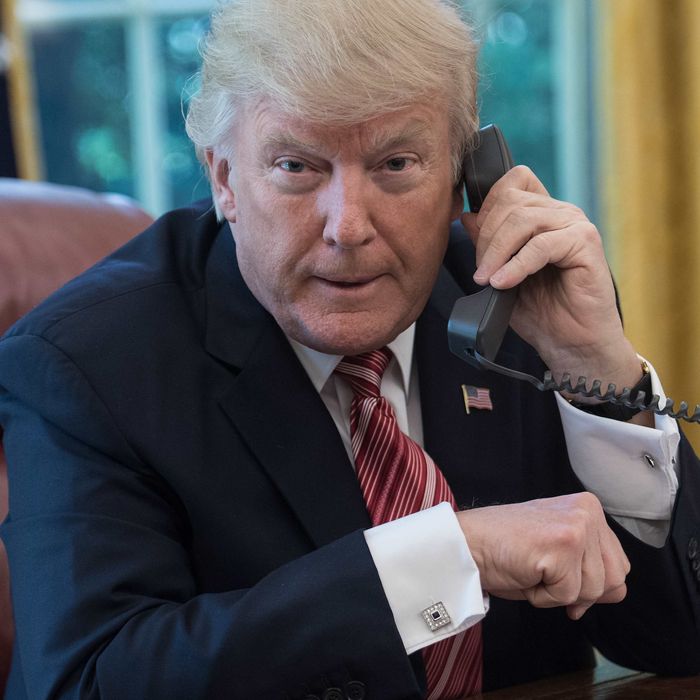 Trump talk.
Photo: Nicholas Kamm/AFP/Getty Images
President Trump — who has spent the past week issuing blustery threats to North Korea, insisting that the U.S. is "locked and loaded," and asserting that he's ready to launch a preemptive strike on the country should peace negotiations fail — seems to have also tried some basic diplomacy on Friday with calls to the president of China and the governor of Guam.
North Korea specifically threatened Guam on Wednesday in response to Trump's promise on Tuesday to unleash "fire and fury like the world has never seen" upon the rogue nation should they threaten the U.S. again.
Speaking with Guam's governor, Eddie Baza Calvo, on Friday, Trump said that the White House was with the territory "1,000 percent" and joked that the crisis was actually good for the island, as it was now making Calvo and Guam famous and would result in a tenfold increase in tourism. The Republican governor released a video of the exchange, in which the pair repeatedly thank and praise each other. (Trump assured Calvo that "you are safe," and Calvo responded that, "I have never felt more safe or so confident with you at the helm.")
Of course, Guam has also been reminding its 160,000 residents, despite there being "no threat to our island," that in the event of a nuclear explosion nearby, they should not risk blindness by looking directly at the flash or fireball, or use hair conditioner afterward, since that would bind radioactive material to their hair. North Korea has not actually threatened to nuke Guam, but has instead threatened to land ballistic missiles — ones that it says could carry a nuclear payload — off the coast of the U.S. territory as a demonstration of its retaliatory capabilities. North Korean state media also dubiously claimed on Saturday that 3.5 million North Koreans have asked to join the military in response to the rising tension with the U.S.
In the call with Calvo, Trump didn't seem impressed with North Korea, and also seemed to think that his own threats were having their desired effect:
You notice [North Korean leader Kim Jong-un] hasn't spoken recently. He doesn't talk so much anymore. And we'll see how it all works out, but you're not going to have a problem. This is between you and I, but you don't talk like they talk. You can't do that. You can't do that with people like us.
Told how beautiful Guam looked in all the news coverage by Trump, Governor Calvo responded that, "It's a paradise — we got 95 percent occupancy and after all this stuff calms down, we're going to have 110 percent occupancy."
Also on Friday, President Trump spoke with Chinese president Xi Jinping, who reportedly told Trump that the relevant sides "must at present exercise restraint, and avoid words and actions that exacerbate tensions on the Korean peninsula." Xi also reiterated to Trump, according to media reports in China, that the U.S. and China are aligned in wanting the denuclearization of North Korea and peace. A White House statement on the call said that both Trump and Xi, who have an "extremely close" relationship, agreed that "North Korea must stop its provocative and escalatory behavior."
Trump will make an official visit to China later this year. There are also reports that the White House will announce on Monday that it's opening an investigation into China's treatment of intellectual property, though it's not clear what effect this would have on U.S.-China cooperation over the North Korea crisis.