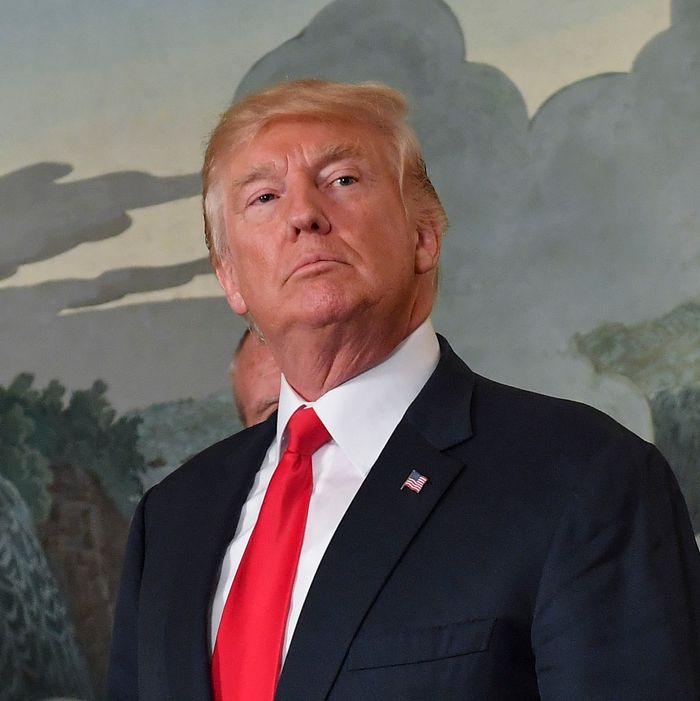 President Trump during his exchange with Jim Acosta on Monday.
Photo: Ricky Carioti/The Washington Post/Getty Images
In high-pressure moments, President Trump seems to enjoy tweeting his way into an even worse position. For instance, days after firing FBI director James Comey, the president suggested he'd made "tapes" of their conversations (which apparently don't exist), and as the Supreme Court prepared to rule on his revised travel ban in June, he launched into a tweetstorm that undercut his team's legal arguments.
After finally condemning "the KKK, neo-Nazis, white supremacists, and other hate groups" on Monday for the fatal violence in Charlottesville, Virginia, two days earlier, Trump went right back to his self-destructive ways.
Trump's followup to his previous criticism of the violence "from many sides" wasn't very satisfying, and not just because it took him so long to criticize white supremacists specifically. His remarks came during a short midday speech at the White House, which started with some self-congratulatory remarks on the state of the economy.
Trump walked away without taking questions, but at an unrelated event several hours later he exchanged words with CNN's Jim Acosta. Asked to explain why he initially chose not to name the hate groups, Trump responded, "They've been condemned. They have been condemned." Then when asked why he didn't hold a press conference as promised, Trump said, "You know I like real news, not fake news. You're fake news." Then he exited the room.
Shortly after 6 p.m., Trump took to Twitter to share more thoughts on Charlottesville. But he wasn't hung up on well wishes for the victims of the car attack or concerns about how white supremacists were seemingly emboldened by the weekend's events. Apparently Trump was worried that he hadn't sufficiently criticized Kenneth Frazier, the African-American Merck CEO who resigned from the president's manufacturing council over his Charlottesville response. Trump had already attacked Frazier for "RIPOFF DRUG PRICES" on Monday morning, and in his evening tweet he added:
Later on Monday, Under Armour CEO Kevin Plank and Intel CEO Brian Krzanich announced that they were joining Frazier in abandoning Trump's manufacturing council. Neither man criticized Trump by name and Plank was vague about his reasons for leaving, saying Under Armour is about "innovation and sports, not politics."
Krzanich's statement took several obvious shots at Trump. He said he was stepping down to "call attention to the serious harm our divided political climate is causing to critical issues, including the serious need to address the decline of American manufacturing." Then he appeared to criticize Trump for lashing out at Frazier:
I have already made clear my abhorrence at the recent hate-spawned violence in Charlottesville, and earlier today I called on all leaders to condemn the white supremacists and their ilk who marched and committed violence. I resigned because I want to make progress, while many in Washington seem more concerned with attacking anyone who disagrees with them. We should honor – not attack – those who have stood up for equality and other cherished American values. I hope this will change, and I remain willing to serve when it does.
Trump has yet to comment on Plank and Krzanich's exit from his manufacturing council.
However, the president wasn't finished complaining about his mistreatment over Charlottesville. Just after tweeting that he was headed home to New York (where thousands of angry protesters were gathered to greet him), Trump called journalists "truly bad people" because they weren't impressed with his remarks earlier in the day. The tweet seems to confirm that he only condemned the hate groups by name due to political pressure, which defeats the purpose of making an additional statement:
Then, perhaps feeling nostalgic once he was settled back in his Trump Tower home, the president played his biggest hit:
In case any white nationalists missed his Obama birther joke, Trump then retweeted this comment from Jack Posobiec:
Posobiec is a conspiracy theorist associated with the alt-right. (He prefers "New Right" and the Anti-Defamation League puts him in the "alt lite," a variant "whose adherents generally shun white supremacist thinking, but who are in step with the alt-right in their hatred of feminists and immigrants, among others.") Posobiec is known for promoting the Pizzagate hoax (he was kicked out of Comet Ping Pong for filming a children's birthday party), allegedly planting a "Rape Melania" sign in an attempt to discredit anti-Trump protesters, and jumping onstage to protest New York Public Theater's controversial production of "Julius Caesar," shouting, "You are all Goebbels!"
Trump's association with Posobiec isn't news; he organized the Trump inauguration's DeploraBall and was "special projects director" for the grassroots group Citizens for Trump. However, taken together, Trump's words and actions on Monday underscore the idea that his criticism of white supremacy and call to unite against bigotry was less than sincere.