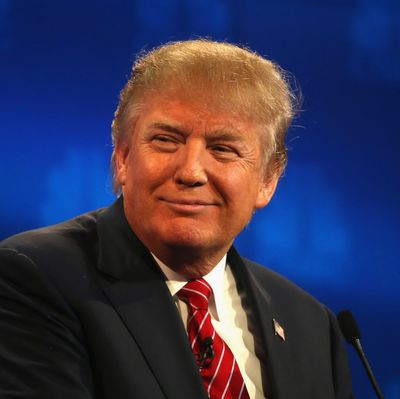 Trump on the debate stage in October 2015, as his associates were trying to make Trump Tower Moscow happen.
Photo: Justin Sullivan/Getty Images
Days after Donald Trump officially became his party's presidential nominee at the 2016 Republican National Convention, he insisted on Twitter and in interviews that he had no business dealings in Russia. "I mean I have nothing to do with Russia," he told CBS Miami. "I don't have any jobs in Russia. I'm all over the world but we're not involved in Russia."
This may have been technically true at the time, but it wasn't for lack of trying. On Sunday the Washington Post reported that the Trump Organization was still pursuing a plan to build a Trump Tower in Moscow in late 2015 and early 2016, months into his presidential campaign. Per the Post:
As part of the discussions, a Russian-born real estate developer urged Trump to come to Moscow to tout the proposal and suggested that he could get President Vladimir Putin to say "great things" about Trump, according to several people who have been briefed on his correspondence.




The developer, Felix Sater, predicted in a November 2015 email that he and Trump Organization leaders would soon be celebrating — both one of the biggest residential projects in real estate history and Donald Trump's election as president, according to two of the people with knowledge of the exchange.




Sater wrote to Trump Organization Executive Vice President Michael Cohen "something to the effect of, 'Can you believe two guys from Brooklyn are going to elect a president?' " said one person briefed on the email exchange. 
Trump never went to Moscow, but by late 2015 Trump and Putin were publicly praising each other. According to the Post, the ill-fated project was well under way at the time:
Discussions about the Moscow project began in earnest in September 2015, according to people briefed on the deal. An unidentified investor planned to build the project and, under a licensing agreement, put Trump's name on it. Cohen acted as a lead negotiator for the Trump Organization. It is unclear how involved or aware Trump was of the negotiations.
The Trump Organization signed a letter of intent with investors, but they never secured the land or permits for the Trump Tower in Moscow (nevertheless, Russia renewed six Trump trademarks in 2016). The project was abandoned in January 2016, just as Trump was winning his first presidential primaries.
Trump's attempts to build in Russia date back to the late '80s, and are well-documented. The Post's report sheds new light on the Trump Tower Moscow project, based on information from sources and what appear to be subpoenaed Trump organization emails "which are scheduled to be turned over to congressional investigators soon." The New York Times first mentioned Sater's claim that he was pursuing a Trump Tower in Moscow back in February. Earlier this month, Sater told TPM that the deal died in the final months of 2015 because, "Once the campaign was really going-going, it was obvious there were going to be no deals internationally." As New York's Andrew Rice noted around the same time, "For an international man of mystery, Sater can be quite talkative."
TPM's Josh Marshall explains that there are two potentially significant revelations in the Post report. The first is that Cohen — who was acting as a spokesman for the Trump campaign in fall 2015 — was also lead negotiator on the Moscow deal. Second is that congressional investigators are getting their hands on the Trump Organization's emails. It seems we can expect to learn much more about Trump's murky Russian business dealings, which ostensibly don't exist.