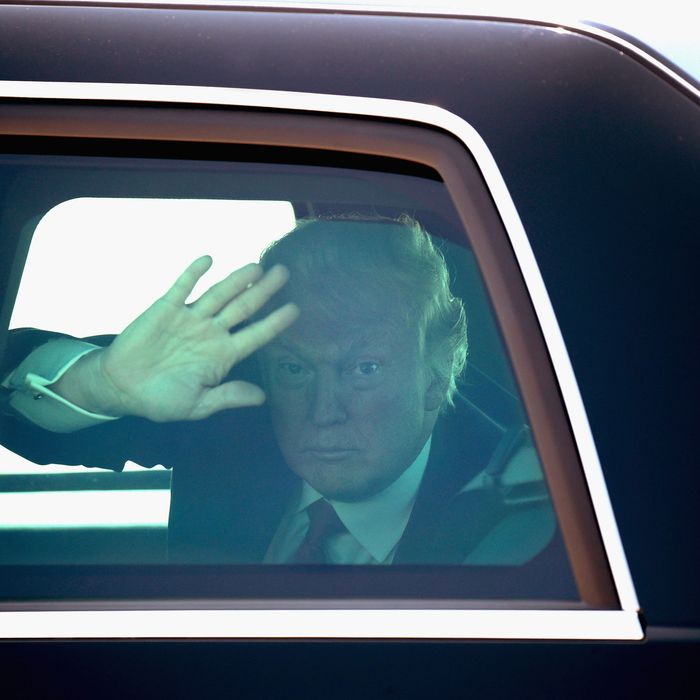 The president waves as he takes leave of His Senses and heads to His Own Little World, where he resides.
Photo: Scott Olson/Getty Images
Taking a short break from threatening to rain down fire on North Korea, President Trump turned his 0.4-second attention span to Venezuela on Friday to blithely threaten the country with military action.
Taking questions from reporters at his golf course in Bedminster, New Jersey, Trump said, "We have many options for Venezuela. And by the way, I'm not gonna rule out a military option.
"We're all over the world, and we have troops all over the world, in places that are very, very far away," he continued. "Venezuela is not very far away, and the people are suffering, and they're dying."
Venezuela is in serious crisis, as the country's increasingly authoritarian ruler, Nicolás Maduro, consolidates power amid a crumbling economy, mass protests, and even the specter of a military coup.
But the idea that the U.S. would intervene with force is absurd on its face. In what has become a familiar routine, a government agency — in this case the Pentagon — immediately clarified that it did not know what the president was talking about. And a Department of Defense spokesperson said that "any insinuations by the Maduro regime that we are planning an invasion are baseless" — ignoring that it was Trump who had done the insinuating.
Perhaps, in the future, institutions won't even need to bother contradicting the president's wild claims.
How the hell did this guy get elected again?