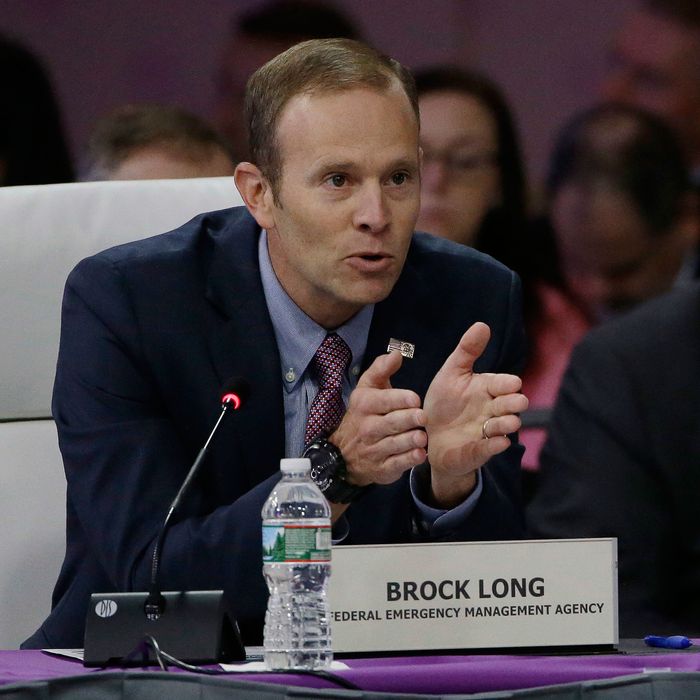 Let's hope he's prepared.
Photo: Stephan Savoia/AP
As a strengthening Hurricane Harvey approaches Texas amid increasingly dire forecasts of catastrophic, days-long flooding, a lot of people are about to learn the name of the director of the Federal Emergency Management Agency: Brock Long.
Many, if not the majority, of President Trump's appointees are scarily unqualified to lead their departments (Ben Carson at Housing and Urban Development, Rick Perry at Energy, Rex Tillerson at State, to name just a few high-profile examples).
Long, who was confirmed in June by a 95-4 vote, does not fit into this dubious category. His experience alone — he was the head of the Alabama Emergency Management Agency, and Hurricane Program Manager at FEMA before that — marks him as a different breed from infamous ex-FEMA head Mike Brown, whom George W. Bush blithely immortalized with the line "heckuva job" as Hurricane Katrina devastated New Orleans. (Before his stint at FEMA, Brown's most prestigious position was with the Arabian Horse Association.)
Long is also the rare (only?) Trump appointee who has been championed by environmentalists. As Bloomberg reports, he has pushed for city and state governments to shoulder more of the costs of natural disasters, a stance that aligns him with pro-green groups and President Obama, who wanted localities to take the threat of climate change more seriously. At his confirmation hearings, Long pressed the need to prepare more thoroughly for future disasters. "He is a rare Trump appointee who is a well-known professional in the field in which he was appointed," Eli Lehrer, president of the R Street Institute, told Bloomberg. "Every part of his reputation suggests he'll take a careful, deliberate, technocratic approach to the job."
The federal government has said that it is running out of money to reimburse towns and cities for natural-disaster damage, even in the midst of a historically hurricane-light period in American history. (The last major hurricane to strike the U.S. mainland was Wilma, in October 2005.) But the Trump administration has gone well beyond merely trying to shift the burden of disaster management to the local level. Its draconian budget proposal included nearly $1 billion in cuts to FEMA, $500 million of which would come from FEMA's grant programs, which include disaster mitigation.
Future budgetary concerns will be relegated to the background, though, as Harvey bears down on the Gulf Coast. Even with a competent FEMA head at the helm, the storm will be a beast to manage effectively. Its slow, meandering path means that severe flooding, power losses, and transportation woes may drag on for days in Texas and possibly Louisiana. Petrochemical plants in the path of the storm may sustain damage, leading to a possible pollution crisis. As The New Republic notes, there is no EPA chief in place for much of the region in Harvey's path, an absence characteristic of the Trump team's sluggish pace in filling key government positions seven months into the administration. (The National Hurricane Center staff is similarly, and worryingly, depleted.)
Then there's Trump himself, whom one can't imagine making this any easier.
Brock Long's reputation precedes him, but he's got his work cut out for him.