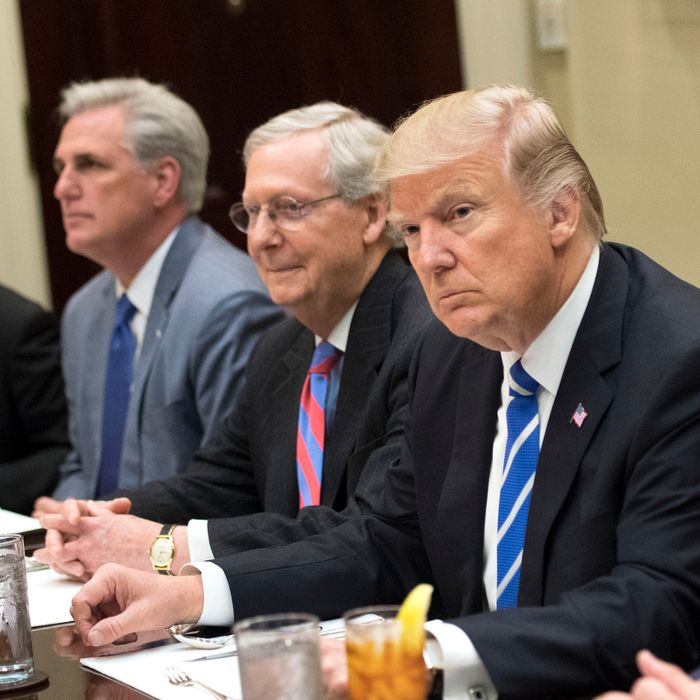 He's taking the fun out of controlling two branches of government.
Photo: Kevin Dietsch/Kevin Dietsch/picture-alliance/dpa/AP Images
In two interviews this week, White House chief strategist Steve Bannon said he welcomes the fight over the president's defense of the "very fine people" who came out to a white-nationalist rally in Charlottesville, Virginia, last weekend.
"The Democrats," he told The American Prospect, "the longer they talk about identity politics, I got 'em. I want them to talk about racism every day. If the left is focused on race and identity, and we go with economic nationalism, we can crush the Democrats."
But what if instead of economic nationalism, President Trump sticks with indulging in outrageous scandals?
Republicans were already bracing for a "brutal" September, since Congress must pass legislation by the end of the month to prevent a government shutdown and a breach of the debt ceiling. Plus, they're hoping to overhaul the tax code for the first time in 31 years. Two-and-a-half weeks is a lifetime in Trump's Washington, but lawmakers are afraid that Trump's fight over the legacy of the Confederacy will further hamper their ability to get to work once they return from recess on September 5.
Conservatives are expected to resist efforts to raise the debt ceiling without spending cuts, and Republicans must strike a deal with Democrats to keep the government funded. Representative Tom Rooney, who is on the GOP whip team, noted on Thursday that if they want to pass a "clean" debt-ceiling increase they'll need the president, who's still "extremely popular" with the base, to "do the whipping."
The same is true of tax reform. As President Trump was disbanding his mutinous business councils on Wednesday, members of the House Ways and Means Committee were meeting in Santa Barbara, California, to work out the details of their tax-reform plan. "At the end of the day, President Trump will be incredibly crucial to the success of this," said committee chairman Kevin Brady. "Tax reform is the signature issue of this presidency."
Representative Carlos Curbelo, who was also on the trip, added that Trump would need to focus on policy in a way that he never did during the push to repeal Obamacare (which is a low bar, since he spent the days before the "skinny repeal" vote joking about police brutality and causing trouble at the Boy Scout Jamboree).
"This is on a whole different scale," Curbelo said. "The committees are still going to do their work, and it's not like we're just going to sit around and talk about issues like this all of the time, but it certainly makes it harder to make a strong case for tax reform to the public because nobody is talking about it."
One senior House GOP aide told Politico that so far the Trump administration is only hurting their efforts.
"These constant tangents create distractions; they force our members to talk about statues and Nazis instead of tax reform," the source said. "Until this White House learns how to actually use the bully pulpit, they're essentially useless."
There's not much congressional Republicans can do about that except hope that Trump suddenly buckles down and stops attacking them for situations he's doing nothing to fix. As New York's Eric Levitz notes, polls show Trump's racism is more popular among Republicans than the GOP's recent legislative agenda. Congressional Republicans can implore Trump to work with them rather than testing whether the base will stand by him if he's achieved no legislative victories and presided over an unnecessary fiscal crisis. But Trump isn't up for reelection in 2018.