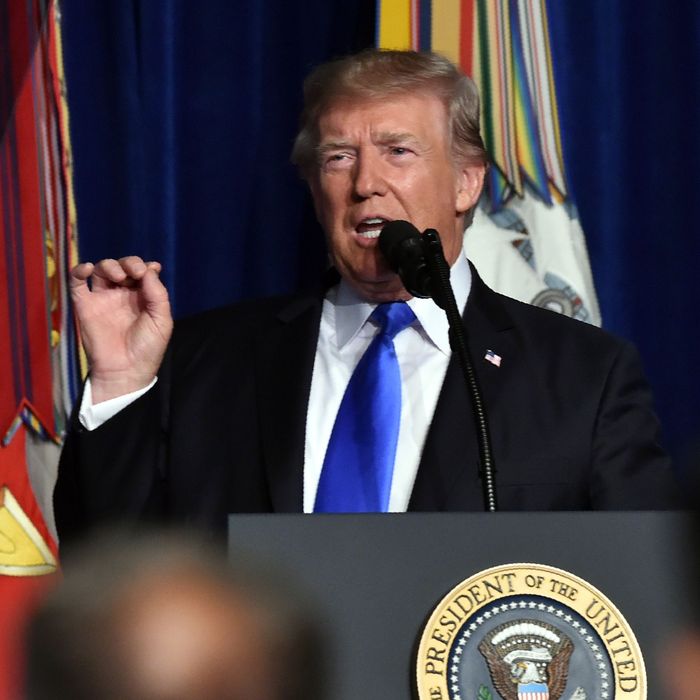 Trump delivers an address on Afghanistan from Joint Base Myer-Henderson Hall in Arlington, Virginia, on August 21, 2017.
Photo: NICHOLAS KAMM/AFP/Getty Images
Over the years, Donald Trump repeatedly called for a "speedy withdrawal" of U.S. troops from Afghanistan, but during a prime-time address to troops at Virginia's Fort Myer on Monday night, he explained that his view has changed now that he has the opportunity to make that happen.
"My original instinct was to pull out, and historically I like following my instincts," Trump said. "But all my life, I've heard that decisions are much different when you sit behind the desk in the Oval Office — in other words, when you're president of the United States."
Trump said that after studying the situation in Afghanistan "in great detail and from every conceivable angle," he's concluded that it would be a mistake for the U.S. to quickly pull out of the country.
"The consequences of a rapid exit are both predictable and unacceptable," Trump said. "A hasty withdrawal would create a vacuum for terrorists, including ISIS and Al Qaeda, where they would instantly fill just as happened before Sept. 11."
What exactly President Trump intends to do in Afghanistan remains unclear — and he says that's intentional. Prior to the speech, administration officials leaked that an additional 4,000 troops will join the 8,400 American service members already stationed in Afghanistan. But in his address, Trump gave no specifics about the number of troops or the timetable for deployment, saying he believes such announcements are "counterproductive."
"We will not talk about numbers of troops or our plans for further military activities," he said. "Conditions on the ground, not arbitrary timetables, will guide our strategy from now on. America's enemies must never know our plans or believe they can wait us out. I will not say when we are going to attack, but attack we will."
Trump suggested his strategy would be far different from that of the Obama administration, but the vague plan he did discuss — using military force and putting diplomatic pressure on Pakistan — sounded similar to his predecessor's.
"Our troops will fight to win. We will fight to win," Trump said. "From now on, victory will have a clear definition — attacking our enemies, obliterating ISIS, crushing Al Qaeda, preventing the Taliban from taking over Afghanistan, and stopping mass terror attacks against America before they emerge."
There has been a heated debate within the Trump administration about what strategy to pursue in Afghanistan, with chief strategist Steve Bannon pushing to replace U.S. troops with private security contractors, and Defense Secretary Mattis and National Security Adviser H.R. McMaster arguing against withdrawing U.S. forces. Trump eventually sided with the generals, and the conflict over the issue was reportedly one of the factors behind Bannon's exit last week.
Though ultimately Trump did not announce any drastic shift in Afghanistan, the event gave him the opportunity to reset and project his authority as commander-in-chief after two weeks in which his reckless remarks on North Korea and Charlottesville sparked fear and outrage. With no acknowledgement that his own words added fuel to the controversy, Trump suggested that America needs to move past the divisive debate on white supremacy for the good of the troops:
And when one citizen suffers an injustice, we all suffer together. Loyalty to our nation demands loyalty to one another. Love for America requires love for all of its people. When we open our hearts to patriotism, there is no room for prejudice, no place for bigotry and no tolerance for hate. The young men and women we send to fight our wars abroad deserve to return to a country that is not at war with itself at home. We cannot remain a force for peace in the world if we are not at peace with each other.




As we send our bravest to defeat our enemies overseas, and we will always win, let us find the courage to heal our divisions within. Let us make a simple promise to the men and women we ask to fight in our name, that when they return home from battle, they will find a country that has renewed the sacred bonds of love and loyalty that unite us together as one.
Trump's tone was far more subdued on Monday night, and he stuck to his prepared remarks. Presumably his more presidential tone won't last for long, as he he's holding a rally in Arizona on Tuesday that's expected to be even more boisterous than usual.
This post has been updated throughout.