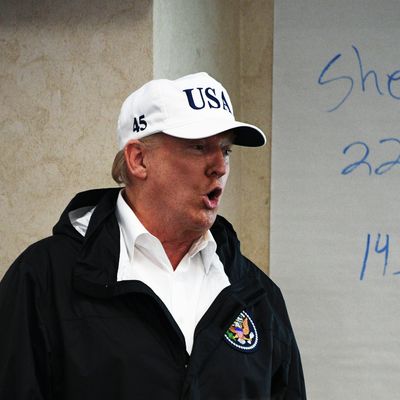 Trump models hat.
Photo: Jim Watson/AFP/Getty Images
President Trump's day trip Tuesday to storm-ravaged Texas, which saw him visit areas largely spared by Hurricane Harvey, wasn't even over before the criticism started. Despite the loss of life and utter devastation around the state, Trump "managed to turn attention on himself," a Washington Post reporter wrote. Trump didn't "see an inch of rain or get near a flooded street," Politico noted. Even former White House Press Secretary Ari Fleischer, typically an ally, called out Trump's lack of "empathy for the people who suffer."
But none of those perceived missteps bothered the ethics hawks at Citizens for Ethics, who are suggesting that Trump got just what he wanted out of his trip to Texas: Tons of free publicity for his "USA" hats.
The first photos of Trump wearing the all-caps white and red hats came from the White House, which distributed shots of Trump wearing both colors on back-to-back days.
On Tuesday morning, as he left the White House, Trump carried a white one in his hand and then he wore one during most of the Texas trip. Meanwhile, Trump's campaign website was selling them for $40 a pop.
"Even removed from the hurricane, it's pretty inappropriate," CREW spokesman Jordan Libowitz told CNN. He added that while Trump does not appear to be breaking any laws, he's not doing "what is ethically right."
Walter Schaub, the former head of the Office of Government Ethics who resigned because of Trump's allergy to ethical behavior, weighed in too.
What's getting lost in the criticism over Trump's graft is just how ugly these hats are. The font is garish, and the text rendered too large for the hat. Subtlety is not a strong suit in Donald Trump's decorating repertoire. His hat blares "USA" because he wants people to associate him with patriotism, just as his buildings blare "Trump" because he wants people to associate them with his company. You can imagine him insisting to whatever poor intern "designed" this hat that the size of the letters had to be doubled.
"Donald Trump's graphics were easy to dismiss," graphic designer Michael Bierut, who designed Hillary Clinton's logo in 2015, told the design magazine Dezeen. "They combined the design sensibility of the Home Shopping Network with the tone of a Nigerian scam email."
And yet, we all know how the election ended up. Bierut suggests Trump might have "won not in spite of his terrible design work, but because of it." And others have speculated that the "undesigned" look of Trump's "Make America Great Again" hat was an "exercise in populism" that was ultimately responsible for its success.
If so, then Trump might be on his way to a second term, because these "USA" hats are as "undesigned" as it gets.