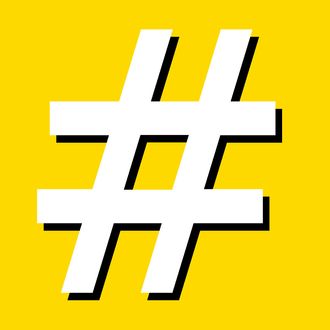 If you see a hashtag today, please wish it a happy birthday. (Also, please film yourself and send me the video of you talking to a hashtag.) It's been ten years since Chris Messina suggested using the pound symbol as a way to organize groups. A decade later, an average of 125 million hashtags are shared on the platform each day, according to Twitter. That's a whole lot of #FollowFridays — a hashtag which has been used half a billion times — and #AmIRights.
But where Messina's idea was a useful suggestion for organizing content on Twitter, the modern hashtag is a very different beast. Over the last ten years, it feels like hashtags have gone from a genuinely useful way to tag content to something used solely by brands and #influencers (need a way to flag sponsored content, after all) — and, every once in a while, as the setup or organizing principle for a Twitter-wide joke. But the numbers don't lie. People still appear to be fervently using hashtags. The question is … which people?
The answer? Fans. Lots of them. Of the most used hashtags over the past ten years, five of them — #MTVHottest, #MTVStars, #KCA, #iHeartAwards, #FanArmy — involved fans tweeting about awards shows. Combined, those hashtags were used over 3 billion times. (Congratulations to MTV.) When awards season rolls around, hashtags are often a way for viewers to cast their votes for fan-chosen awards, such as #EMABiggestFansJustinBieber.
Twitter calls the hashtag "a powerful way to aggregate global conversations and movement." Which isn't untrue. Hashtags like #BlackLivesMatter #ShoutYourAbortion — encouraging people to speak openly about their abortions to raise awareness and decrease stigma — come to mind with that definition. But mostly, hashtags, at least on Twitter, have become a powerful way to make sure your boys in Five Seconds of Summer take home a VMA. #TheMoreYouKnow.