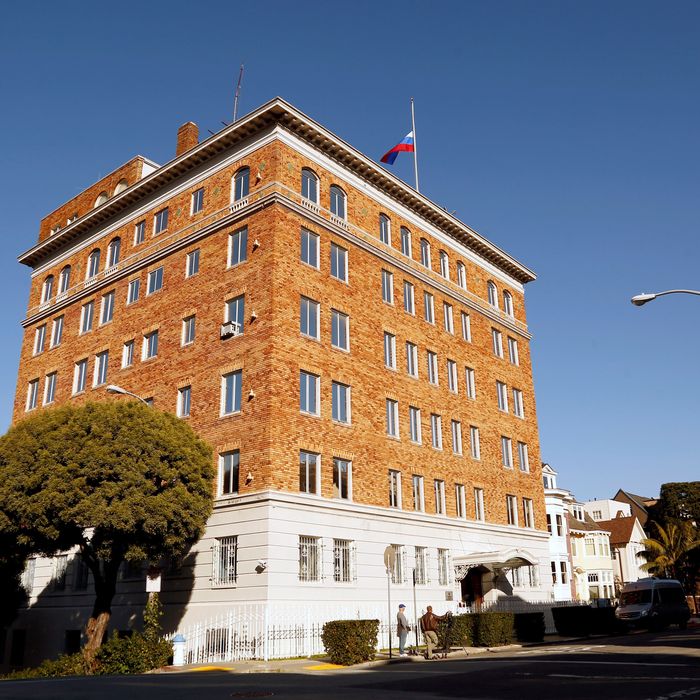 The Russian consulate in San Francisco.
Photo: Tayfun Coskun/Anadolu Agency/Getty Images
The U.S. on Thursday ordered Russia to shutter its consulate in San Francisco and two other buildings in New York and Washington, the latest move in a back-and-forth series of retaliations for Russia's interference in the 2016 election.
The first punishment, handed down by President Obama, forced Russia to move out of two diplomatic compounds in the U.S. and send home 35 Russian diplomats. After months of asking the Trump administration to return the compounds, the Kremlin fired back and ordered the U.S. to cut its embassy staff in Russia by 755 employees.
Now, the U.S. is responding to that response by cutting off Russia's access to three buildings in the U.S. Notably, Russia is not being told to reduce staff. That, a U.S. official told Bloomberg, was an attempt to "soften the consequences" of the punishment, which now leaves both the U.S. and Russia with three consulates in the other country.
Secretary of State Rex Tillerson told Russia's foreign minister Sergey V. Lavrov about the punishment in a phone call Thursday and sought to reassure him that the U.S. is not trying to ratchet up tension. But in a briefing, State Department spokesperson Heather Nauert issued a warning to Russia. "The United States is prepared to take further action as necessary and as warranted," she said.
In his own statement, Lavrov "expressed regret" about the new retaliatory moves and was clear that he saw them as "escalation of tension." That's quite a contrast from how President Trump reacted to Russia's last move in this tit for tat. "I want to thank" Putin, Trump said, "because we're trying to cut down our payroll."