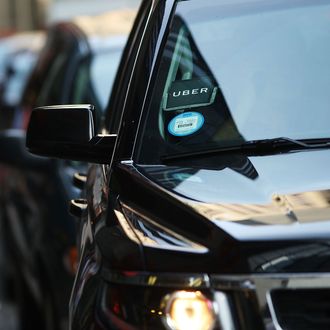 Photo: Spencer Platt/Getty Images
Because we couldn't let you start your weekend without at least one more piece of news filed to "Uber, What You Doing?!?!," here's a charming anecdote about Uber's business practices in Singapore. The company, according to a new report from The Wall Street Journal, purchased and leased over 1,000 Honda Vezels to drivers there. Uber did this after Honda recalled the vehicles in April 2016 because of an electric fault that can cause the cars to heat up and catch on fire.
From the WSJ:
Uber driver Koh Seng Tian had just dropped off a passenger in a residential neighborhood in Singapore when he smelled smoke in his Honda Vezel sport-utility vehicle. Flames burst from the dashboard, melting the interior and cracking a football-sized hole in his windshield. Mr. Koh walked away unhurt, according to the accident report filed with authorities. But the fire this January caused panic at Uber Technologies Inc.
According to internal emails obtained by the Jounal, Uber purchased 100 Vezels from a Singapore-based dealer, Sunrita (which the company is currently suing), just days after Honda recalled the cars. In May 2016, Sunrita contacted Uber about the recall and offered a timeline for fixing the cars by the end of August. By January 2017 (the month Koh Seng Tian's car went up in flames), Uber still hadn't taken them up on it and the cars still were at risk of combustion. It bought over 1,000 more Vezels during that time.
After the January incident, WSJ also reports, Uber leaders met in San Francisco to work out a plan for getting replacement parts for the faulty Vezels and temporarily deactivating any driver who had one. (Remember, these are cars Uber leased to drivers, so taking them out of the game likely meant taking money out of drivers' pockets.) "We took swift action to fix the problem, in close coordination with Singapore's Land Transport Authority as well as technical experts," an Uber spokesman said. "But we acknowledge we could have done more — and we have done so." Maybe the company should also add "has working knowledge and general concern for fire safety" to the list of qualifications its seeking in a CEO to replace Travis Kalanick. Couldn't hurt.