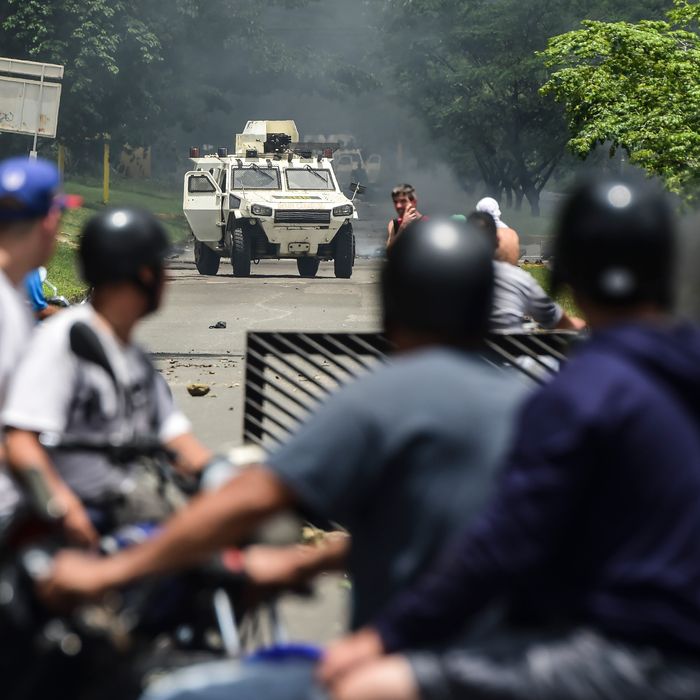 Anti-government activists and the National Guard clash in Valencia.
Photo: RONALDO SCHEMIDT/AFP/Getty Images
The Venezuelan army said two people were killed on Sunday as it put down a "paramilitary" attack on a military base in Valencia, the country's third largest city. Defense Minister Vladimir Padrino described the early-morning incident as a "terrorist attack" carried out by "delinquent civilians wearing military uniforms." However, during the attack the men released a video claiming they were soldiers from the 41st Brigade of Fort Paramacay. They said they were defending democracy via a "legitimate rebellion," not staging a coup.
"We are united now, more than ever, with the brave people of Venezuela who do not recognize the legitimacy of Nicolás Maduro's murderous tyranny," said a man claiming to be Captain Juan Caguaripano of the National Guard, who deserted in 2014.
The incident came two days after the Constituent Assembly — a newly elected group tasked with rewriting the constitution — was sworn in. On Saturday, the assembly unanimously fired Attorney General Luisa Ortega Diaz, a critic of President Nicolás Maduro who said she would investigate claims of fraud in the election for assembly representatives. Many foreign governments have condemned the rewriting of the constitution as a power grab by Maduro, and the United States responded by placing sanctions on top Venezuelan officials.
The army said it retook the base, and seven people involved in "Operation David" were arrested. Several others escaped with weapons and a manhunt is under way.
The incident is another sign that Venezuela's political crisis is spinning out of control, though experts said a larger military uprising is unlikely. The AP notes that then-president Hugo Chavez already purged the military following a 2002 coup, placing loyalists in top positions. Maduro has given the military more political power and financial bonuses, while civilians struggle amid high inflation and widespread shortages.
Ivan Briscoe, head Latin American analyst for the International Crisis Group, told the AP that organizing an uprising without Maduro's knowledge would be very difficult. "It's very hard to create critical mass without being found out," he said. "In an era of instant digital communications, authorities can be alerted to the risk of destabilization very quickly."