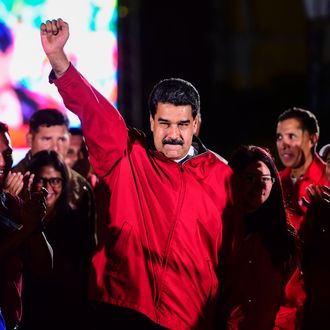 Maduro.
Photo: Ronaldo Schemidt/AFP/Getty Images
"Bring on more sanctions, Donald Trump," declared president Nicolás Maduro soon after the U.S. Treasury slapped the Venezuelan leader with sanctions over his decision to forge ahead with plans rewrite the country's constitution. The largely symbolic measures — which freeze Maduro's U.S. assets (if he has any) and bar Americans from doing business with him — seem to be playing right into one of the the president's favorite rallying cries against the Yankee imperialists. "The emperor Donald Trump took decisions against me that show his desperation and hate," Maduro said Monday. "I don't obey orders from foreign governments and never will."
Maduro's defiant speech comes as Venezuela spirals into chaos in the wake of Sunday's election of members to a constituent assembly, which will remake the country's constitution. The body technically has more power than Maduro, but all those elected are considered close leftist allies or cronies of the president, and critics fear that Maduro is using the assembly to consolidate power and potentially dissolve Venezuela's opposition-controlled legislature, the National Assembly.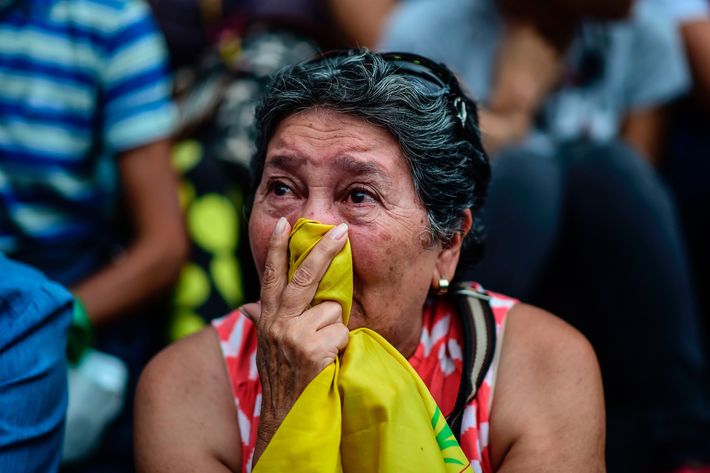 Fears which now seem to be playing out in real time, after reports that two of Venezuela's prominent opposition figures were removed from their homes in the dead of night by state security services. The Maduro-aligned Venezuela Supreme Court claimed that the two men, Leopoldo Lopez and Antonio Ledezma, had violated the terms of their house arrest by posting critically about the Venezuelan government, and had plans to flee, reports the Washington Post. Both men publicly denounced Maduro's constitutional vote on social media, but the reports of them preparing to flee are a bit suspect.
Lopez was only recently transferred from prison to house arrest, which was seen as a concession to the political opposition who had been leading protests against the Maduro regime. Lopez's wife reacted on Twitter and later posted a video that appears to show his alleged arrest. "12:37 in the morning: Moment the dictatorship kidnaps Leopoldo at my house. They will not break him!"
Another video, also published on social media, allegedly shows the moment Ledezma, a former Caracas mayor who has been under house arrest since 2015, was forcibly taken from his home.
Maduro repeated threats Monday to crack down on the opposition, which widely boycotted Sunday's vote stacked with Maduro loyalists. At least ten people died in clashes between police and protesters that accompanied the vote, and the violence may escalate if Maduro continues to consolidate power and freeze out the opposition.
The United States is also considering additional sanctions against Venezuela, though for now it has just punished those in Maduro's inner circle, and the leader himself. Maduro is only the fourth head of state to be directly sanctioned, putting the Venezuelan president in what National Security Adviser H.R. McMaster called an "exclusive club" with Syria's Bashar al-Assad, Zimbabwe's Robert Mugabe, and North Korea's Kim Jong-un.