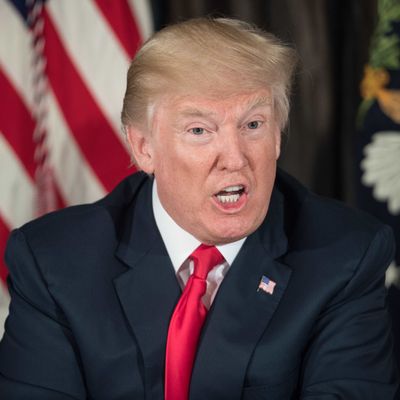 Trump interrupts his vacation to threaten North Korea.
Photo: NICHOLAS KAMM/AFP/Getty Images
Several long-feared moments came in quick succession on Tuesday afternoon. First, the Washington Post reported that U.S. analysts believe North Korea is now capable of producing miniaturized nuclear warheads that fit inside their missiles, a key step toward becoming a nuclear power. Then Trump responded to an international crisis by shooting his mouth off, saying, "North Korea best not make any more threats to the United States," or "they will be met with fire and fury like the world has never seen." Unsurprisingly, rather than backing down, North Korea said it's considering an attack on Guam, a U.S. territory.
The exchange heightened fears that tensions between North Korea and the U.S. could devolve into war, and raised questions about why the president would respond to Pyongyang with language that echoes Kim Jong-un's cartoon villain–esque threats.
The New York Times, ostensibly Trump's least favorite publication, offered the most generous assessments of the president's remarks. In a piece on the unprecedented nature of Trump's rhetoric, the paper left open the possibility that he was intentionally channeling President Truman:
Mr. Trump's menacing remarks echoed the tone and cadence of President Harry S. Truman, who, in a 1945 address announcing that the United States had dropped a nuclear bomb on Hiroshima, urged the Japanese to surrender, warning that if they did not, "they may expect a rain of ruin from the air, the like of which has never been seen on this earth."




It is not clear whether Mr. Trump intended the historical parallel — White House officials did not respond to questions about how much planning went into his brief statement, or what was intended by the alliterative language — but it was a stark break with decades of more measured presidential responses to brewing foreign conflicts.
And while reactions were mostly negative across the political spectrum, the Times quoted two experts who suggested Trump's bellicose words might be part of some larger strategy.
"It may be a message to [Chinese president] Xi Jinping, that you have to be doing more than just sanctions at the U.N.," Joseph S. Nye Jr., a Harvard scholar who once ran the American government's National Intelligence Council, told the paper. "It may be a very rational, thought-out message," rather than an emotional outburst, he added.
Mark Dubowitz, chief executive of the nonprofit Foundation for Defense of Democracies, suggested it may be time for the president to try new tactics.
"This is a more dangerous moment than faced by Trump's predecessors," he said. "The normal nuanced diplomatic rhetoric coming out of Washington hasn't worked in persuading the Kim regime of American resolve. This language underscores that the most powerful country in the world has its own escalatory and retaliatory options."
There isn't much evidence that Trump's words were a carefully plotted to elicit a particular response from North Korea or its neighbors — which is both good and bad.
First, the venue Trump chose for his serious escalation of the standoff with Kim wasn't a televised address to the nation, but a briefing, at his New Jersey golf course, on the opioid crisis. Trump was responding to a question about North Korea that was shouted by a reporter, and it seems likely that he used the phrase "fire and fury like the world has never seen" because he'd just described his crackdown at the southern border in similar terms.
If Trump did intend to announce a course change on North Korea, he forgot to alert the rest of his administration. Politico reports that Pentagon spokesman Colonel Robert Manning said he was "not aware of any change in policy." He directed further questions to the White House, but they had little to say about Trump's new stance:
The White House declined to explain Trump's choice of words. Counselor Kellyanne Conway told reporters later Tuesday at the nearby Bridgewater Marriott Hotel that the president's remarks were "very strong and obvious," declining to elaborate further.




Several White House officials privately downplayed the statement, saying in some ways "it's the way Trump talks," in the words of one.




"He's pissed off in private and he's pissed off in public," this person said.
Trump's outburst undermined the work his administration has been doing on the North Korea issue, which finally saw some success over the weekend when the United Nations Security Council unanimously approved tougher sanctions against Pyongyang. Per CNN:
For weeks, Secretary of State Rex Tillerson has been building what he calls a "peaceful pressure" campaign, roping international partners into a broad effort to push the Democratic People's Republic of Korea to stop brandishing its missiles and weapons and come to the negotiating table.




The top US diplomat has paired that endeavor with an equally important but more subtle project: sending messages of reassurance to China and other Asian nations that the US' aim isn't to destroy North Korea and upend the region, but simply to engage Pyongyang in talks.
Before we had an opportunity to see the effects of those sanctions, Trump set a red line that North Korea violated in a matter of hours. The president didn't specify what sort of "threats" from North Korea will be met with "fire, fury, and frankly power," but Pyongyang's talk of attacking Guam suggests they won't be backing down anytime soon. As The Atlantic notes, if Trump isn't ready to back up his offhand comment, he's confirming that other world leaders shouldn't take him seriously:
If Trump's statement was intended to intimidate North Korea into making concessions on its nuclear-weapons program—or to persuade China to crack down on its North Korean ally as a means of averting war in China's neighborhood—then what happens when North Korea makes another threat against the United States and Trump doesn't bring the fire and fury, just as he couldn't stop the North Koreans from fitting a nuke to a missile? Will the president's words retain any power, any credibility, to deter North Korea's aggression and change the behavior of its allies?
No missiles flew overnight, so some are taking comfort in the idea that Trump was just matching North Korea's bluster with his own. However, it's still tremendously frightening that Trump doesn't seem to understand that's just the kind of thing that can unintentionally start a war.