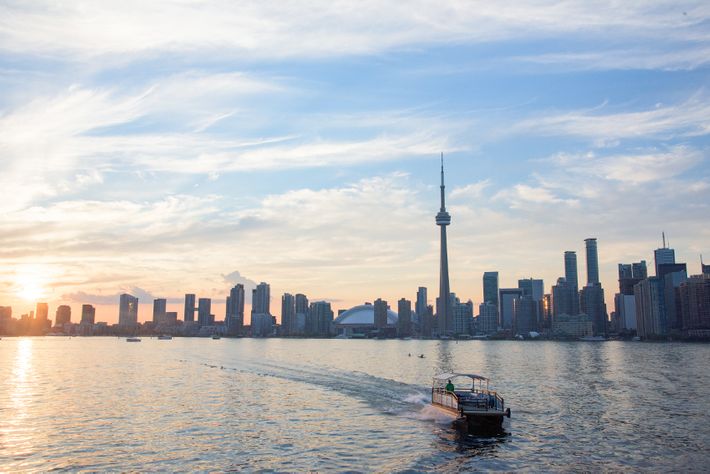 Just over an hour-long flight from Newark Airport, Toronto could be considered a natural sister city to New York. Reputed as "Canada's Downtown," the country's largest metropolis is an ideal playground for visitors seeking the biggest sports action, attractions, and special events that the country has to offer. Those who enjoy neighborhood-hopping around a new destination will like Toronto's makeup of distinct districts, which range from upscale and trendy to laid-back and artsy. From cosmopolitan art galleries and boutiques to lively local dives, here are some of the sights, sounds, and tastes to relish in this unique place to get away.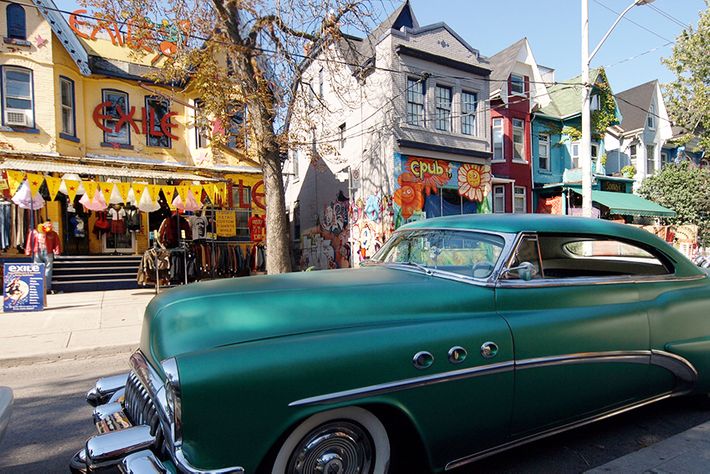 Start your explorations with a sampling of local flavor at must-visit Kensington Market, arguably the city's most vibrant and diverse neighborhood. From vintage clothing boutiques to patio cafés, the market's mix of quaint independent establishments boasts some of the best shopping — and people-watching — in town. Note: It's a particularly hot spot on Sundays, when select roads are closed to cars so pedestrians can peruse on foot.
Next, head to the water's edge to check out the scene at Toronto's Harbourfront, a bustling area that hosts a variety of public (and often free) music, art, film, and food events, as well as family-friendly festivals throughout the year. While there, soak in the views of Lake Ontario from the shore, try a sailing course, or take a drink break on a waterfront patio. You can also hail an island ferry boat from the Jack Layton Ferry Terminal to one of the three Toronto Islands, where beaches, picnic-ready parks, and unparalleled vistas of the city await.
Once you've gained a feel for the Toronto of today, delve into its intriguing history via an excursion to Casa Loma, the only full-sized castle in North America. Upon arrival, you'll find yourself in the Edwardian era, where you'll travel through secret passageways, elaborate gardens, and rooms adorned with authentic period décor. Meander through rotating on-site exhibits for even more color on the region's compelling backstory.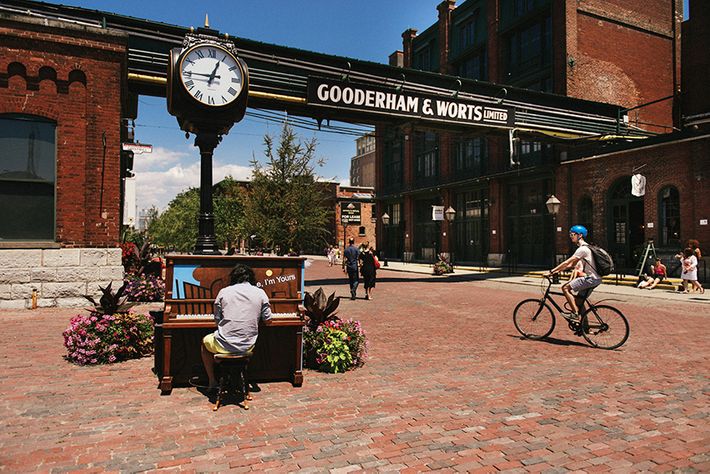 For an added dose of days past, take a walk around the Distillery District, a historic area in Old Town Toronto consisting of more than 40 heritage buildings and picturesque, brick-lined courtyards. There, you'll find artisan shops, restaurants, and galleries that, together, are a living anachronism within modern Toronto. While in Old Town — the city's first named neighborhood — pop next door to St. Lawrence Market, where on Sundays, you can treasure-hunt for one-of-a-kind jewelry, vintage books, and other eclectic items from all kinds of vendors.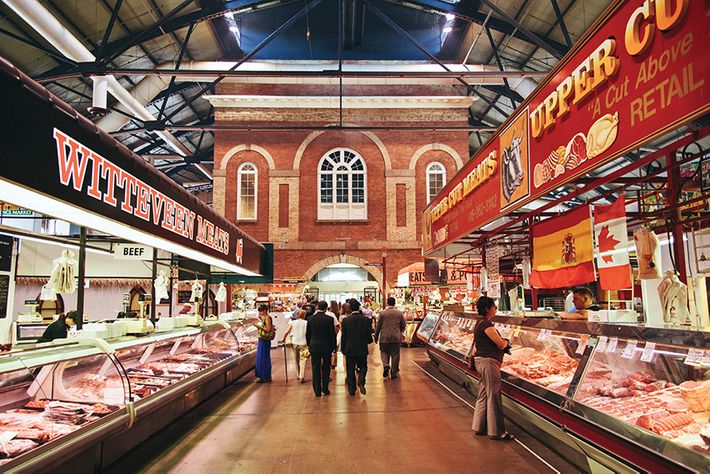 All flavors are welcome in Toronto – the food scene is as diverse as the people who call the city home. And, whether you're in the mood for Canadian comfort food or upscale gastropub eats, you can sample something from every corner of the city at the aforementioned St. Lawrence Market. There, you can vendor-hop or wind through the Saturday farmers' market — a local tradition for the past 200 years. For additional variety, explore the city's famous food trucks, which peddle everything from fresh seafood to BeaverTails, a local dessert pastry.
Stemming from the city's sundry cultural influences, Toronto also boasts several truly unique spots for inventive culinary fusion. Take Rasta Pasta, for example: The menu includes hybrid creations that blend classic Jamaican flavor with Italian-inspired pasta perfection. Hungary Thai is another must-visit, bringing Hungarian and Thai dishes under one roof, from schnitzel and strudel to tom yum and pad Thai.
Then there's Bannock, which touts itself as "unapologetically Canadian." The restaurant, named for a round flatbread that's a traditional food for some of Canada's earliest settlers, offers indulgences such as the bannock BLT or roast duck poutine pizza.
As the evening rolls in, a visit to the landmark Drake Hotel and its breathtaking Sky Yard rooftop bar is another must. Even if you're not staying in one of the property's epic suites, it's an ideal place to kick off a night out or nurse a nightcap.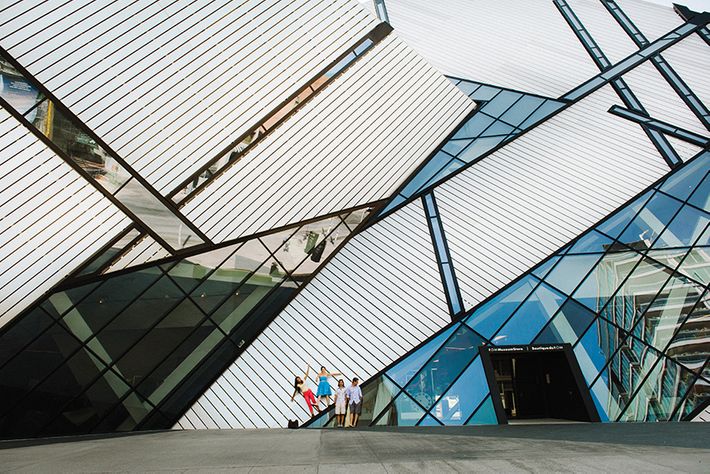 Whether you're an aficionado of art, music, food, and film, or are a vulture for unforgettable views, "Canada's Downtown" offers a score of ready-to-please activities.
The Art Gallery of Ontario is one of the city's premier venues to view distinguished art exhibitions; it's one of the largest galleries in North America in both size and collection. And for film buffs, the Toronto International Film Festival (TIFF) is worth planning a trip around; for 40 years, it has been one of the top three film festivals in the world and presented the best in international and Canadian cinema. This year's festival takes place September 7 to 17, although TIFF-sponsored talks, exhibitions, and parties are held year-round at the TIFF Bell Lightbox in the heart of Toronto's entertainment district.
Continue your intellectual-leaning pursuits at the Royal Ontario Museum, Canada's largest museum and one of the most renown in the world. The institution's natural and anthropological wonders include a maze of dinosaur fossils, rare gemstones, and ancient artifacts that rival the best collections anywhere.
And when you feel like sitting back and being entertained, note that Toronto has one of the largest theatre markets in the world. At grand and niche venues alike, theatre-goers will find delight in family favorites like Dr. Seuss's The Lorax, critically acclaimed shows like The Curious Incident of the Dog in the Nighttime, and North American premieres like Bat Out of Hell: The Musical.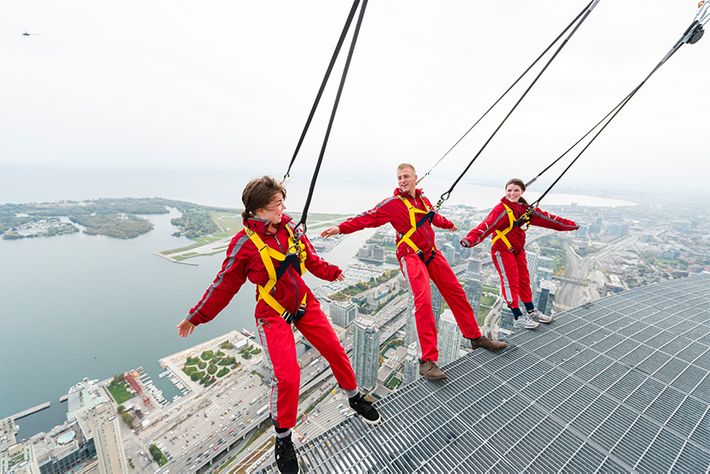 To take in Toronto's true scale, gain a higher perspective at the iconic CN Tower. An engineering behemoth and one of the seven Wonders of the Modern World, the tower provides some of the best views in the city – especially while riding the glass elevators. The truly adventurous can partake in EdgeWalk, a thrilling (or terrifying), hands-free stroll around the exterior of the soaring structure – 116 stories above the sidewalk. Since Toronto plays host to the most professional sports teams in Canada, the CN Tower area is also home to high-profile venues like the Rogers Centre, which the Toronto Blue Jays call home, and the Air Canada Centre, where the Raptors and the Maple Leafs play.
Lastly, consider planning your trip around some of the timely opportunities and outstanding events Toronto is becoming known for. For example, beginning on September 23, Toronto will host the international Invictus Games, the annual adaptive sport competition that honors ill, wounded, and injured soldiers (and which is held in a different city around the world each year). Purchase tickets now to cheer on more than 550 competitors from 17 nations at this awe-inspiring event.
The takeaway? If you're craving new urban adventures, Toronto is a stimulating weekend getaway that is conveniently nearby. To start planning your visit to "Canada's Downtown" today, find out everything you need to know here.
This is paid content produced for an advertiser by New York Brand Studio. The editorial staff of Daily Intelligencer did not play a role in its creation.