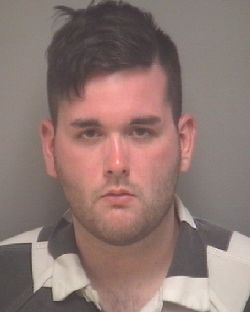 James Alex Fields Jr.'s mug shot.
Photo: Handout/Getty Images
A gray Dodge Challenger rammed into a crowd of people protesting a white-nationalist rally in Charlottesville, Virginia, on Saturday, killing Heather Heyer, a 32-year-old paralegal, and injuring 19 others. On Sunday afternoon, UVA Health System said ten of the victims remain hospitalized in good condition, and nine others have been released.
James Alex Fields Jr., 20, has been charged with the crime. Reports suggest he's been fascinated by white supremacy and Nazism for several years, and traveled from Ohio to Virginia to attend the Unite the Right rally of white nationalists and other hate groups. Here's what we know about him so far:
• Fields was raised in Northern Kentucky by a single mother, Samantha Bloom, who is paraplegic. His uncle told the Washington Post that Fields never knew his father because he was killed by a drunk driver five months before his birth.
• The uncle said he mainly saw Fields at family gatherings, and found him "not really friendly, more subdued." He said Fields's father left him money in a trust kept by his uncle. "When he turned 18, he demanded his money, and that was the last I had any contact with him," the uncle said.
• Bloom's parents (Fields's maternal grandparents) died in a murder-suicide in 1984. The Post reports: "After an argument, Marvin Bloom, a self-employed contractor, killed his ex-wife, Judy, with a 12-gauge shotgun, then put the gun to his head. He was 42, and she was 37. Their daughter, Samantha, was 16."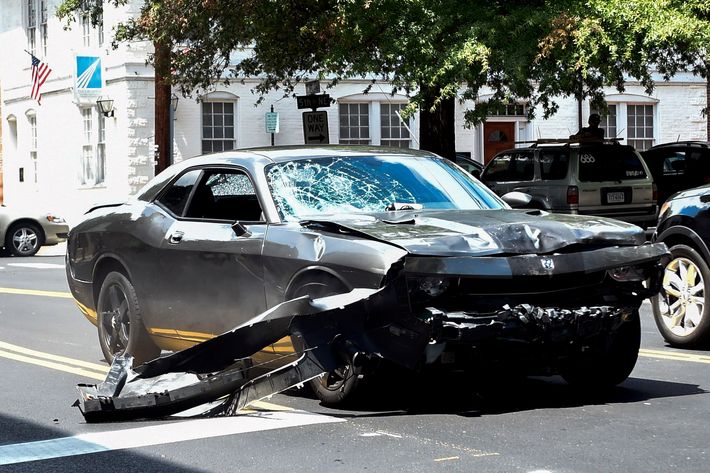 • Fields's former teacher, Derek Weimer, told the Associated Press that by the time Fields was in the ninth grade, school officials had taken note of his "deeply held, radical" beliefs about race and Nazism. Weimer taught Fields in his junior and senior years at Randall K. Cooper High School in Kentucky.
Weimer says he tried to use facts and academic reasoning to steer Fields away from his infatuation with Nazis. "This was something that was growing in him," the teacher said. "I admit I failed. I tried my best. But this is definitely a teachable moment and something we need to be vigilant about, because this stuff is tearing up our country."
• During his senior year, Fields supported Trump, expressing enthusiasm for the border wall and what he believed were Trump's views on race. He's a registered Republican and voted in Ohio's primary and the general election.
• Fields wanted to join the Army and Weimer helped him with the application process, believing that working with a diverse group of people would help cure him of his white-supremacist views. Fields was initially turned down, but he enlisted in the late summer of 2015. The Defense Department said he was only on active duty for four months and was let go "due to a failure to meet training standards in December of 2015."
• Weimer said that Fields told him he had been diagnosed with schizophrenia when he was younger and prescribed antipsychotic medication.
• Fields and Bloom moved from Kentucky to Ohio about a year ago due to her job. About five or six months ago, he moved into his own apartment in Maumee, Ohio.
• Bloom apparently learned of the allegations against her son from reporters. She said Fields told her he was going to a rally and asked her to watch his cat. Bloom said he said something about the "alt-right" but she doesn't get into his political views. "I didn't know it was white supremacists," she said. "I thought it had something to do with Trump. Trump's not a supremacist."
• BuzzFeed reports that Fields's Facebook page, which was deactivated on Saturday night, was filled with pro-Trump and alt-right memes. There were also overt references to white supremacy and Nazism, like a photo of Adolf Hitler as a baby and another of soldiers holding American flags and swastikas.
• Photographs appear to show Fields at the rally hours before Saturday's attack, wearing the symbols of Vanguard America, which calls itself the "Face of American Fascism." According to the Anti-Defamation League, the group "is particularly focused on recruiting young men and has engaged in unprecedented outreach efforts to attract students on American college campuses."
In a statement on Twitter, Vanguard denied that Fields was a member, saying it handed out shields "to anyone in attendance who wanted them," and "All our members are safe an (sic) accounted for, with no arrests or charges."
Video taken at the Unite the Right rally appears to show Fields in the crowd chanting, "Fags go home. You have no testosterone."
• According to Charlottesville police, Fields was arrested shortly after fleeing the scene of the crash. He's been charged with one count of second-degree murder, three counts of malicious wounding, and hit and run.
• The Justice Department said on Saturday night that it would open a civil-rights investigation into "the circumstances of the deadly vehicular incident," which means federal hate-crime charges could be added.
"The violence and deaths in Charlottesville strike at the heart of American law and justice," Attorney General Jeff Sessions said in a statement. "When such actions arise from racial bigotry and hatred, they betray our core values and cannot be tolerated."