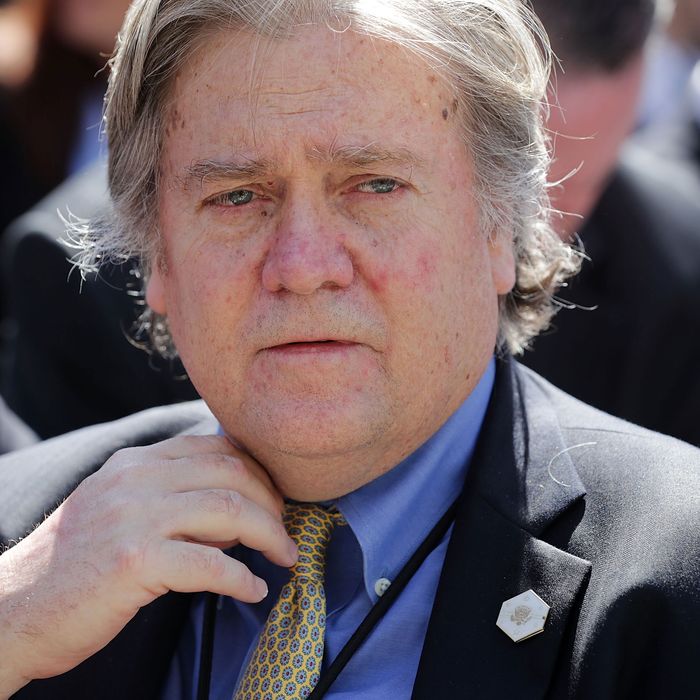 Make Steve Bannon an Outsider Again?
Photo: Chip Somodevilla/Getty Images
If the Trump administration were a season of The Apprentice, Steve Bannon wouldn't have survived week one. The chief White House strategist began his tenure by penning a travel ban so slipshod and extreme, it created a months-long legal problem for the White House. He proceeded to put himself on the National Security Council's principals committee — without the president's informed consent.
Over the ensuing months, Bannon proved himself ill-equipped to rally Congress behind Trump's agenda; threatened his boss's fragile ego by painting himself as the right-wing populist movement's true visionary in media profiles; feuded with the president's son-in-law (whom he reportedly sees as a "cuck"); and (allegedly) fomented a far-right campaign to get the White House national security adviser fired.
Amid all this, Bannon's history as a white-nationalist fellow-traveler — who proudly described his news website as a platform for the "alt-right" — provided the White House communications staff with one more headache it didn't need. And that headache has never been more severe than it is now, days after the "alt-right" brought Nazis and blood to the streets of Charlottesville. And yet, Bannon still hasn't been treated to Trump's favorite catchphrase.
But he may hear it very soon, according to the New York Times:
Rupert Murdoch has repeatedly urged President Trump to fire him. Anthony Scaramucci, the president's former communications director, thrashed him on television as a white nationalist. Lt. Gen. H. R. McMaster, the national security adviser, refused to even say he could work with him.




For months, Mr. Trump has considered ousting Stephen K. Bannon, the White House chief strategist and relentless nationalist who ran the Breitbart website and called it a "platform for the alt-right." Mr. Trump has sent Mr. Bannon to a kind of internal exile, and has not met face-to-face for more than a week with a man who was once a fixture in the Oval Office, according to aides and friends of the president.




At a recent dinner at the White House with Mr. Kushner and Mr. Kelly, before Mr. Trump decamped for a working vacation at his private golf club in Bedminster, N.J., the president listened while one of the guests, Mr. Murdoch, a founder of Fox News, said Mr. Bannon had to go.




Mr. Trump offered little pushback, according to a person familiar with the conversation, and vented his frustrations about Mr. Bannon. 
Still, Bannon has made the trip from White House to doghouse before — and he's always found his way back. In April, Trump removed the Breitbart mastermind from the security council and dismissed him as just "a guy who works for me" in an interview with The Wall Street Journal.
Nevertheless, Bannon persisted. And eventually his distance from the "Russia scandal," clout with big-dollar conservative donors, and talent for telling Trump what he wants to hear earned him renewed influence: In an internal struggle over the Paris Climate Agreement, Bannon's side prevailed over the putative "moderates" Jared Kushner and Gary Cohn.
It's true that the chorus calling for Bannon's ouster is larger and louder than it was four months ago. But the nationalist provocateur retains his grip on one of the most influential publications on the American right — and boasts the loyalty of some of the GOP's big-money donors and members of Congress.
In the Times' account, Trump is inclined to show Bannon the door — but worried about what the self-appointed voice of America's right-wing populist movement will do after walking through it: According to the Times, Trump is reluctant to dispatch the strategist out of concern for "what mischief Mr. Bannon might do once he leaves the protective custody of the West Wing."
This is a reasonable concern. Breitbart has sway over a significant swathe of the GOP base, and Bannon has deep personal ties with the billionaire Mercer family, who bankrolled much of Trump's campaign. Somewhat ironically, Bannon — who rails against the influence of "globalist" bankers, and was painted as an anti-Semite in sworn testimony by his ex-wife — also enjoys the staunch approval of the (Sheldon Adelson–funded) Zionist Organization of America.
His most vital source of support on Capitol Hill is similarly ironic. Bannon is, ostensibly, the only Trump adviser who has called for raising taxes on the rich, regulating the Silicon Valley giants as utilities, and spending $1 trillion of public funds on a massive infrastructure stimulus. In mid-November, Bannon predicted that "the conservatives are going to go crazy" once they saw what a populist takeover of the GOP meant.
The House Freedom Caucus, by contrast, was founded by far-right fiscal conservatives who wanted to push the GOP to shrink the government down to a more drownable size, and, thus, let the beneficent gods of the free market (and free trade) restore America's greatness.
If Bannon had Gary Cohn's biography, House conservatives would probably be rallying to get this New York Democrat — and his big-government philosophy — out of the White House (even if they did approve of his views on immigration). But thanks to the postmodern identity politics of the American right, Bannon's status as an anti-Establishment right-winger whom liberals despise — and his influence over the far-right infotainment complex — make him the representative of "true conservatives" in the White House. Here's the Times again:
Mr. Bannon also has admirers, including Representative Mark Meadows, the North Carolina Republican and the chairman of the House Freedom Caucus, who said that without Mr. Bannon, "there is a concern among conservatives that Washington, D.C., will influence the president in a way that moves him away from those voters that put him in the White House."




… Mr. Meadows reached out to the president and told him that he would lose his base without Mr. Bannon.
Bannon has reportedly told friends that he is considering the possibility that he'd be better able to advance his agenda on "the outside" — ostensibly because he'd have more latitude to coordinate attacks on the administration's "globalists" for their various betrayals of the "forgotten" Americans.
Bannon is a disruptive presence at 1600 Pennsylvania Avenue. But he could conceivably be more disruptive outside the White House gates. Given Trump's deepening unpopularity with voters who don't read Breitbart, it may be best for him to keep his friends close — and his frenemy closer.