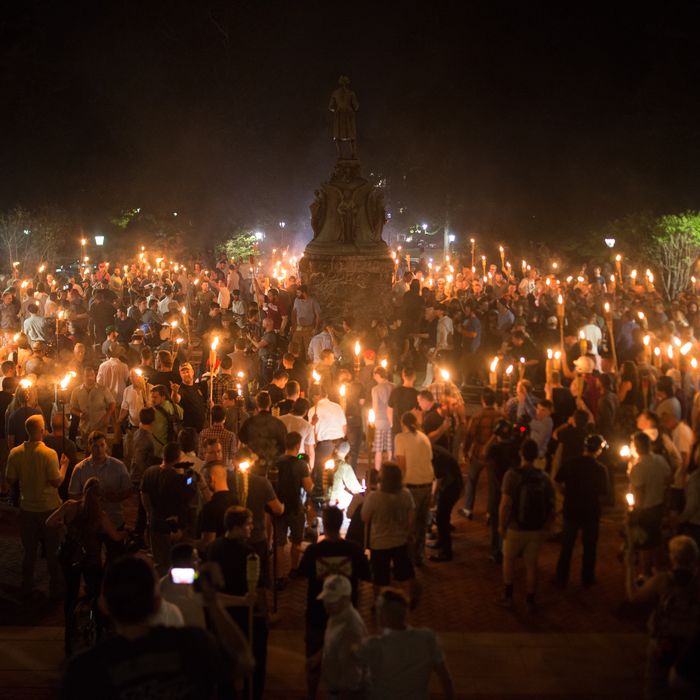 A crowd of white nationalists encircling a statue of Thomas Jefferson at UVA on Friday night.
Photo: Zach D Roberts/NurPhoto/NurPhoto via Getty Images
Hundreds of torch-bearing white nationalists descended on the University of Virginia campus Friday night ahead of a planned "Unite the Right" rally in Charlottesville, Virginia, on Saturday.
Shouting blatantly anti-Semitic slogans like "Blood and soil!" and "Jew will not replace us," the marchers snaked through the campus, which, it being mid-August, was mostly empty.
The marchers made their way to a statue of Thomas Jefferson, where they scuffled with a smaller group of counterprotestors who had scrambled to meet them. A scuffle ensued, and at least one person was arrested.
The march had not been previously announced, and University of Virgina police soon appeared and ordered that everyone disperse.
Local public officials condemned the display of bigotry in harsh terms.
As horrifying as the march was to behold it did inspire plenty of delightfully barbed commentary on Twitter.
The Unite the Right rally on Saturday will feature a much bigger crowd of racists — the Southern Poverty Law Center says it may be "the largest hate-gathering of its kind in decades in the United States." And plenty of them are armed:
Counterprotesters (many strictly peaceful) were ready to meet them, and small bursts of violence had already erupted on Saturday morning.
The nominal cause for the rally is the planned removal of a statue of Confederate General Robert E. Lee in the heavily liberal Charlottesville.