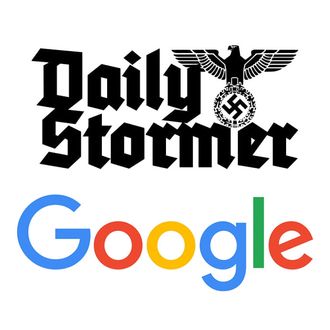 Following yesterday's ultimatum from domain-name registrar GoDaddy, white-supremacist blog the Daily Stormer transferred its domain name to Google. Almost all websites use a centralized registrar to handle how their domains and URLs function. Within roughly an hour, Google had canceled the Daily Stormer's registration "for violating our terms of service."
The move leaves Daily Stormer searching for a new technical home after the site posted what the companies interpreted as incitements to violence, following the upheaval in Charlottesville, Virginia. Google's decision to cut off the site also comes on the heels of its dismissal of James Damore, whose internal memo on the biological differences between men and women earned the company tons of scorn from the alt-right.
WHOIS records also indicate that the Daily Stormer utilizes the services of Cloudflare, a company that ensures site stability and redundancy in the event of things like DDoS attacks. In a statement to Reuters, Cloudflare said that it doesn't comment on individual clients, though it is aware and "find[s] the content on some of these sites repugnant." The service has come under fire in the past for bolstering the stability of the Daily Stormer.