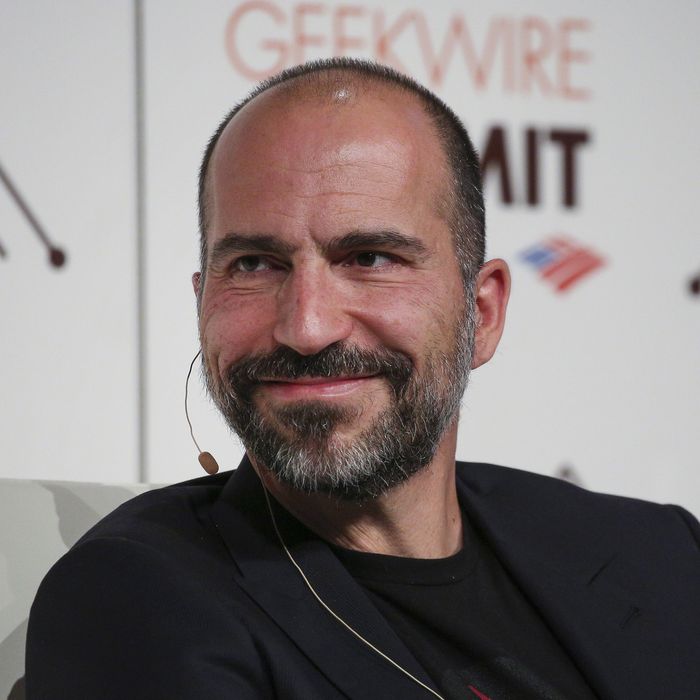 Dara Khosrowshahi could be Uber's next CEO.
Photo: David Ryder/Bloomberg via Getty Images
Travis Kalanick — Uber's infamous founder and former CEO — has been on an indefinite leave of absence since June. (Why June? Officially, Kalanick left to take some time to grieve the sudden death of his mother. Also around the same time, Eric Holder's probe report came out, which recommended that reallocating Kalanick's duties and powers would be in the best interest of the company.) This week, the company looks like it might finally have landed on somebody to take over for Kalanick: Dara Khosrowshahi.
The current Expedia CEO was, according to the New York Times, officially chosen on Sunday evening, though news of his selection broke online before Khosrowshahi had even been informed by Uber's board. As of Monday morning, several sources told TechCrunch he had officially been offered the job, though there has yet to be a formal announcement on whether or not he accepted the gig. He was reportedly chosen out of a final pool including two other candidates, former General Electric CEO Jeffrey Immelt and Hewlett Packard Enterprise's Meg Whitman. The Times reports the board had been leaning toward Whitman but could not agree on terms. (Also, Whitman herself tweeted she would not be Uber's new CEO earlier this summer, so there's that too.)
Khosrowshahi — who was born in Iran and emigrated to the United States with his family as a kid — has been running Expedia since 2005. He has been vocal about his distaste for the Trump administration. (Earlier this year, Kalanick quit Trump's advisory council saying his presence there was not meant to endorse the president.) Now we just have to wait and see if he takes the job. If he does, Khosrowshahi will certainly have his work cut out for him.