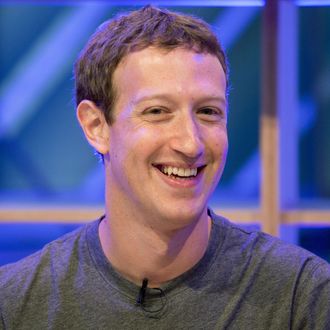 Mark Zuckerberg.
Photo: Kay Nietfeld/AFP/Getty Images
It's been known for a while that you cannot block Mark Zuckerberg on Facebook. Attempting to do so pops up a message that vaguely reads, "This profile can't be blocked for now." Mysterious, but given Zuck's recent turn toward global statesmanship, it wouldn't be too surprising for him to have a feature that ensures he can get the word out to everyone.
In reality, and you'll have to take Facebook's word for it, this is more of a glitch. Responding to an inquiry from Fast Company, "a spokesperson explained that when an account gets blocked many times in a short period, others trying to block the account may get an error message." In other words, so many people are trying to block Mark Zuckerberg that the blocking mechanism is overloaded.
There's some slight evidence for this, in that Zuckerberg's wife, Priscilla Chan, has joined him on the list of Unblockables. In January, we noted that she could be blocked, but she cannot be any longer. It might have something to do with the couple's recent announcement of the birth of their second child, punting them into more users' News Feeds.
Imagine having such a sprawling global reach that you're able to override the technical safeguards meant to stop the spread of your content. Aspirational, in a way.