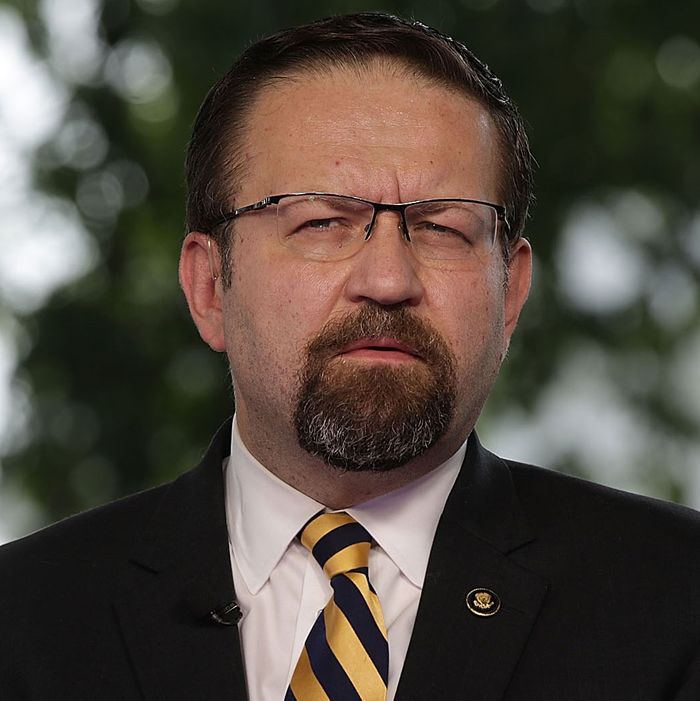 Sebastian Gorka ponders his future.
Photo: Alex Wong/Getty Images
Much has been made in recent weeks of the battle between Steve Bannon and Jared Kushner for the soul of Trump's White House. On Friday, President Trump's son-in-law appeared to claim victory when Bannon was pushed out of his role as senior strategist. The question now turns to whether any of his lackeys will follow him out the door.
The man who may be most at risk is Sebastian Gorka, the deputy assistant to the president and former Breitbart News editor who worked for Bannon at the right-wing website and reported directly to him at the White House. With his boss ousted, Gorka's fate is "extremely uncertain," a source told the Daily Beast. And Bannon's firing isn't the only reason.
Gorka is currently on vacation and wouldn't comment on this story. But several of his West Wing colleagues have said that Trump's newly installed chief of staff, former Department of Homeland Security Secretary John Kelly, was deeply "displeased" by some of Gorka's recent TV performances, according to one senior official who has discussed this with Kelly.




Kelly had recently undertaken an internal review of West Wing staffers' responsibilities and portfolios. And another White House adviser said that the chief of staff "doesn't know what [Gorka] does except go on TV sometimes."
This isn't the first time Gorka has been close to leaving the White House. In late April, multiple sources said the Islamophobic Englishman was on his way out, but the departure never happened.
Another likely soon-to-be-ex–White House employee is Julia Hahn. A special assistant to the president and former Breitbart employee, Hahn is an anti-immigration hardliner who's often described as Bannon's protégé. The Washington Post says she and Gorka are the two likeliest staffers to follow Bannon, and Politico's Jake Sherman tweeted that he's been told that Hahn is already "out."
But they may have seen Bannon's firing coming and prepared for it. The Post says both Gorka and Hahn have "portrayed themselves in recent talks with colleagues as Trump allies first and Bannon allies second." And the Daily Beast notes that Hahn, along with Steven Miller, whose job is reportedly safe, have recently complained to colleagues about Bannon's leaking and self-promotion, calling him a "glory hog."
If either of these two Bannon allies do in fact find themselves pushed out of the West Wing, they're likely to find a home with their mentor, who has already declared his intention to go "to war for Trump."