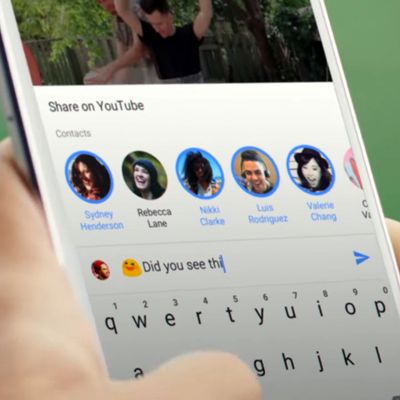 Real American innovation.
Photo: YouTube
Just in case you were somehow feeling underwhelmed by the absolutely ridiculous amount of messaging-app options out there, YouTube has got your back. The popular video platform has added a new feature that will allow you to share videos with your friends and privately chat about them — all without leaving the YouTube app.
The feature looks like the love child of Facebook Messenger and Android's Messages platform — it features a lot of the same keyboard add-on options you've seen before — and it can be activated by clicking the share button below any YouTube video. From there, you can select recipients from your contacts (provided they have the YouTube app installed as well) and include a message to be attached to the shared video. Once a video is shared, recipients will be able to watch it without navigating away from the chat window — a neat addition to the messaging experience that seems designed to promote conversation while watching.
And although this feature is somewhat novel, it remains to be seen whether users will find it worth their time, given the wide variety of other messaging services currently available.
With the adoption of direct messaging, YouTube joins the ranks of other popular social-media apps — like Instagram, Facebook, and Twitter — that have pushed chat options on their users after growing successful, and it seems unlikely that the video platform will be able to catch up. There just isn't enough of an incentive for users to switch platforms solely to discuss YouTube videos.
If you're a YouTube power user who spends countless hours sending links and chatting about them with your friends via some other platform, this will be useful to you. But, if you're like the majority of the world and use YouTube more casually, you'd probably be better off sticking to one of your other ten messaging apps before starting a new conversation on YouTube messages.