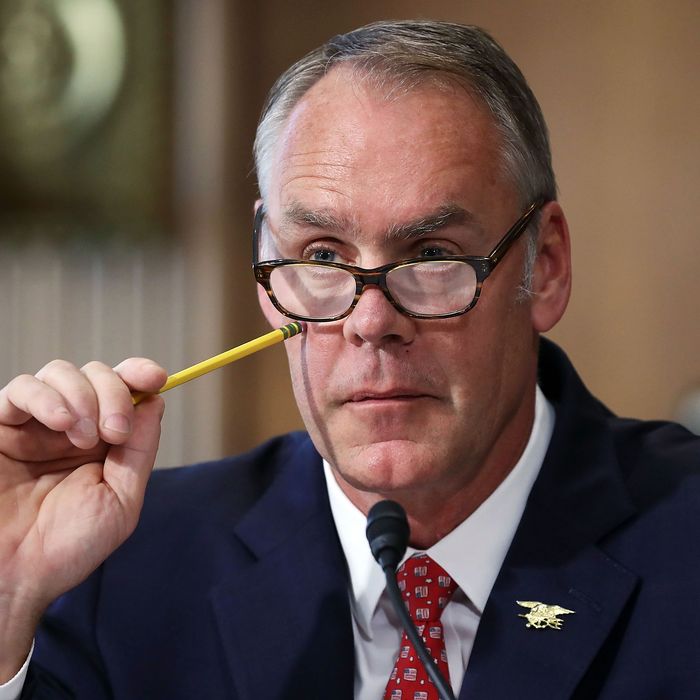 Interior Secretary Ryan Zinke.
Photo: Mark Wilson/Getty Images
In April, President Trump signed an executive order calling on the Interior Department to review dozens of national monument designations stretching all the way back to 1996. Referring to the "massive federal land grab" of his predecessors, Trump said, "It never should have happened. I am signing this order to end abuses and return control to the people."
Four months later, Interior Secretary Ryan Zinke has completed the review and decided that none of the 27 national monuments under consideration should be eliminated. He will recommend a "handful" of boundary changes to President Trump, he told the AP, but did not provide specifics. Nor did he comment on one of the most controversial issues surrounding federal monuments — the possibility that they'll be opened up to oil and gas exploration.
When Trump ordered the review in April, it marked an unprecedented challenge to the 1906 Antiquities Act. No other president had ever moved to eliminate the designation, which provides lands with federal protection based on grandeur, history, and vulnerability.
Republicans became especially agitated about the issue during the Obama presidency. And nowhere was it as big an irritant as it was in Utah, home to Obama's Bear's Ears National Monument and President Clinton's Grand Staircase-Escalante National Monument. On the day after Trump's inauguration, Utah's entire congressional delegation asked him to abolish Bear's Ears, a 1.35 million-acre monument on sacred tribal land that Obama designated in his last days in office.
While that call was not heeded and that's a clear victory for tribal leaders and conservationists, Zinke's suggestion that a "handful" of changes may be coming has some worried.
Randi Spivak, public lands director for the Center for Biological Diversity, remains skeptical about the Trump administration. "Zinke's sham review was rigged from the beginning to open up more public lands to fossil fuel, mining and timber industries," she told the Washington Post. "He and Trump will not be allowed to rob Americans of their public lands."
Meanwhile, Mike Noel, a lawmaker in Utah, told the Times that he's still hopeful the state will regain control of some of the land within its national monuments, a "victory" for the state. "When you turn the management over to the tree-huggers, the bird and bunny lovers and the rock lickers, you turn your heritage over," he said.