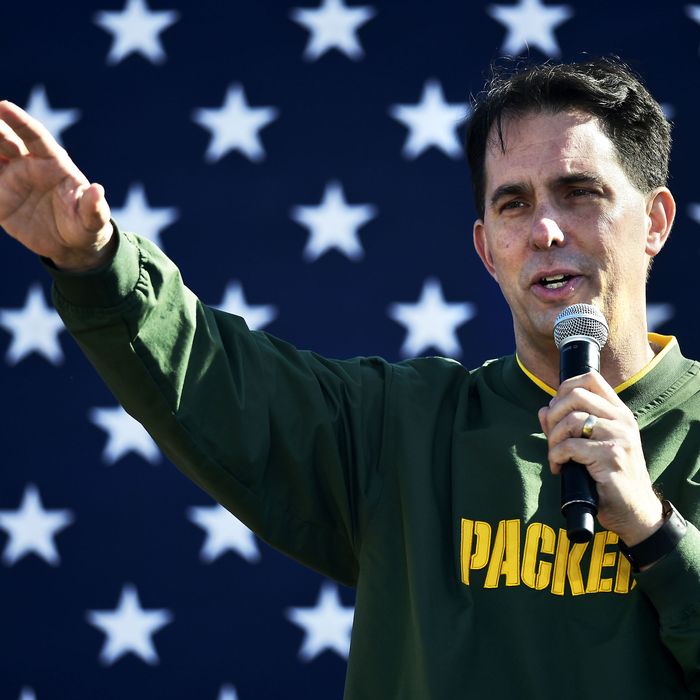 Unsurprisingly, Scott Walker is one of the governors saying he's happy to get more power to cut health-care benefits.
Photo: MANDEL NGAN/AFP/Getty Images
Earlier this week, a bipartisan group of ten governors wrote a letter to Senate leaders opposing the revived Graham-Cassidy bill and endorsing bipartisan efforts to fix Obamacare. At a minimum, it was a bit of an embarrassment since the whole rationale for Graham-Cassidy was that the states were willing and able to provide an alternative — or maybe 50 alternatives — to Obamacare.
So unsurprisingly, the GOP rustled up 15 governors to sign a letter supporting the bill. Also not a surprise: All of them are Republicans. None of them are likely to exert any influence on wavering GOP senators (yes, Maine's Paul LePage is Susan Collins's governor, but they aren't exactly buddies). But collectively, they offer something of a counterbalance to the earlier group opposing Graham-Cassidy.
If you look at this Gang of 15 individually, their rationales for this action become clearer.
Nine are from states that rejected the option of expanding Medicaid, and would thus get a windfall of Medicaid-expansion money in the block grant that Graham-Cassidy would create. Yes, their states would still suffer down the road from a Medicaid per capita cap, but that would happen long after all these fine public servants had left office.
Two of the other signatories (Asa Hutchinson of Arkansas and Matt Bevin of Kentucky) are Republicans who succeeded Democratic governors, who in turn expanded Medicaid (the former via a deal with HHS). It's no skin off their noses if expansion money gets redistributed. Another (Indiana's Eric Holcomb) inherited an expansion deal cut by his predecessor, the current vice-president of the United States, so he's not about to rock any GOP boats. Neither is Iowa's Kim Reynolds, who recently ascended to the governorship after Terry Branstad was appointed ambassador to China and is in the process of insulating herself against primary challenges. That leaves North Dakota's Doug Burgum as the only mystery. He was just elected in 2016, so maybe he doesn't feel responsible for his predecessor's actions. Or maybe he's standing on principle, who knows!
At any rate, this isn't a particularly impressive show of gubernatorial force in favor of relieving Congress of the responsibility for major areas of health-care policy. But you never know: It may earn its signatories a favor from Washington somewhere down the road, or some street cred from the ever-vigilant GOP base. And some of them undoubtedly look forward with righteous pleasure to the opportunity to cut health-care benefits in their states.