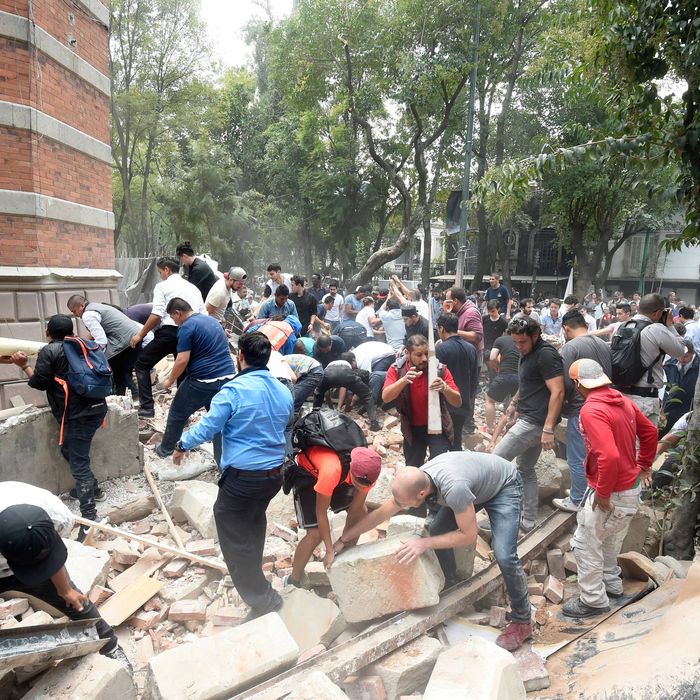 The immediate aftermath of Tuesday's earthquake.
Photo: Alfredo Estrella/AFP/Getty Images
A powerful earthquake struck Mexico on Tuesday afternoon, killing at least 226 people across the country. That includes 117 in Mexico City, 12 in the surrounding area, 55 in Morelos, 39 in Puebla, and three in Guerrero. At least 44 buildings collapsed or partially collapsed in Mexico City.
It seems likely that many more casualties will follow in and around the capital. Many people are trapped in collapsed buildings, and hundreds of volunteers are working to dig them out of the rubble.
The quake, which hit at 1:14 p.m. local time, measured 7.1 on the Richter scale and was centered 76 miles southeast of the country's capital, according to the U.S. Geological Survey.
Photos and video showed whole buildings crumbling during and after the shaking, as well as rubble and downed trees on the streets in the aftermath. Thousands of people streamed onto the street, and there were reports of fires and gas leaks.
In the neighborhood of Del Valle, at least two multistory apartment buildings collapsed, potentially trapping dozens inside. Marines and volunteers formed a chain to pass out cleared debris as they searched for survivors.
On Tuesday night, authorities said at least 20 children and two adults died in a school that collapsed in the neighborhood of Villa Coapa. Another 30 students and eight adults from the school are missing.
Many videos emerged of the moment the quake struck:
President Trump, who is deeply unpopular in the country, tweeted his sympathies.
During the earthquake, Mexican president Enrique Peña Nieto was traveling to Oaxaca to inspect the damage from another quake, which occurred on September 8 and was the most powerful earthquake to hit Mexico in a century, killing dozens. After Tuesday's earthquake, he quickly returned to the capital and convened a national emergency council. He released a video message late Tuesday night, urging people to remain calm and saying authorities were working to help the many people left without power. But he stressed that "the priority at this moment is to keep rescuing people who are still trapped and to give medical attention to the injured people."
September 19 happens to be the 32nd anniversary of one of the most catastrophic earthquakes in the country's history, an 8.0 magnitude tremor that hit near Mexico City and killed several thousand people, leading the city to adopt stricter building codes. Just hours before Tuesday's earthquake, buildings around the country had held annual evacuation drills.