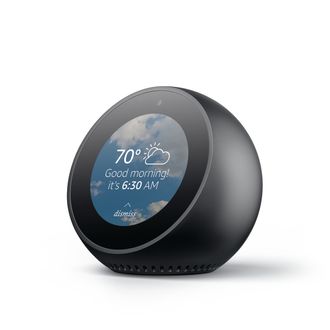 Amazon, the website where you buy all of your stuff from, spent the afternoon announcing roughly seven bazillion new Echo devices. They are multiplying like rabbits. The most important and interesting new device might be Echo Spot, a small device with a 2.5-inch screen that you can keep on your bedside table like an alarm clock.
There's also a new flagship Echo model that's shorter and, wrapped in fabric, softer than the old one. The new echo has Dolby Digital audio and a better far-field microphone, so you'll both be heard better and get better sound, when you ask your Alexa to order more Doritos.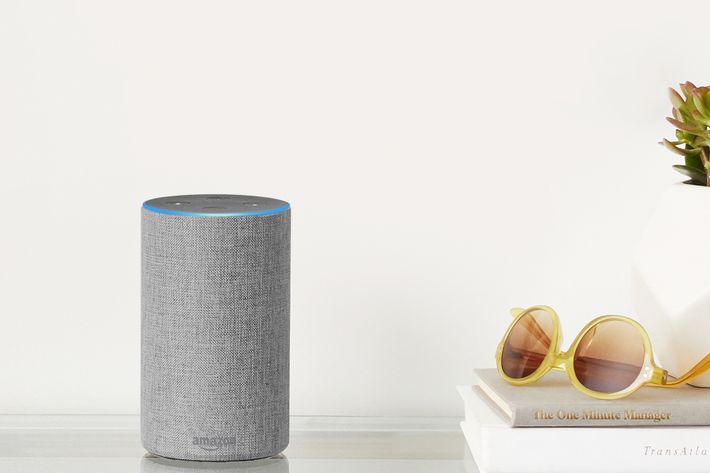 The new Echo also supports multiroom setups, so if you have an Echo in each room, you can link them up to play music simultaneously, making the Echo a budget-priced threat to speaker-makers like Sonos. It's only $99 — $80 cheaper than the first model — and you can save $50 by buying a three-pack.
It can also make phone calls — Amazon's introducing a supplementary gadget, the Echo Connect, which will let you take and make calls on your Echo using your landline number.
If you're sick of the Skynet-like, pitch-black, semi-reflective column of doom that characterized the old Echo, the new Echo has a cloth cover, so you can customize its appearance. (Clearly, Amazon learned a thing from Google's home speaker.) If you preferred the column of doom, the body of the old Echo has been refashioned into the Echo Plus, which starts at $149.
Amazon also announced a new API and Echo Buttons, which will let developers making third-party programs for Alexa create new ways to interact with the tech. (Hasbro's making a version of Trivial Pursuit for it.)