Head north on I-65 and you'll see it on your right as you go winding up through Franklin, Tennessee, just south of Nashville, where the road weaves you past the Nissan North America headquarters, past the Walmart and the Galleria. From peripheral vision at 70 mph, it scans as little more than a shock of silver and gold, like someone slipped a single Civil War image into a film reel of fast-food franchises, firework megastores, and the rest of the visual muddle of Southern highway travel. Still, it's unmistakable. And if you pull onto the shoulder and get out for closer inspection, you'll see, beyond the kudzu-threaded barbed-wire fence and inside a half-circle Confederate battle flags, the horse and rider —Confederate Lieutenant General Nathan Bedford Forrest astride his steed, 27 feet from horse hoof to saber tip, riding parallel to the roadway.
Behold: our nation's ugliest Confederate statue. It it is crudely and cartoonishly rendered in polyurethane — Forrest in silver, his horse in gold. Forrest brandishes a pistol, an elongated arm protruding from his shoulder at a grotesque angle, his too-large head turned unnaturally to stare at traffic. His face is contorted into a deranged smirk, his eyebrows raised and his teeth bared, as if fixing around that shrill yawp of the rebel yell. It is so absurd and tacky that it looks like a joke — Stephen Colbert recently described the statue as a "skirt-wearing nutcracker riding [a] wet lizard" — but it was carved and erected in total sincerity.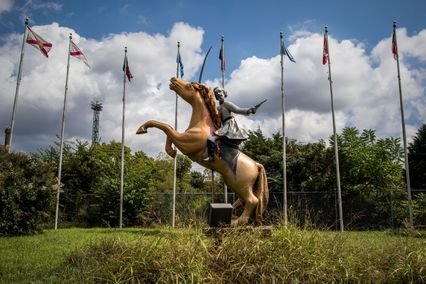 The statue was created by longtime Nashville resident Jack Kershaw between 1996 and 1998. Kershaw was an unreconstructed Renaissance man — a painter, sculptor, lawyer, semi-pro quarterback, grassroots organizer, and avowed racist. When Kershaw died in 2010, the Nashville Tennessean's obituary called him a "gold plated eccentric" while the Southern Poverty Law Center went with "one of the most iconic American white segregationists of the 20th century," noting his role in founding multiple white-supremacist organizations along with his bizarre contribution to the country's collection of Confederate monuments. And because Kershaw placed his statue on a private spit of land adjacent to the highway, while other Confederate monuments on public land are taken down in the aftermath of the white nationalist violence in Charlottesville, this Forrest will ride on.
For over two years, I've been visiting monuments of Nathan Bedford Forrest across the American South, studying the likeness of a man who, in life, was a hard-bitten striver with six months of schooling, a military savant who was one of Memphis's biggest slave traders. In his symbolic afterlife, he, like his ideology, is everywhere, an ever-present beacon of Confederate nostalgia. There are 31 Forrest monuments in Tennessee alone — more than all three of the state's presidents (Andrew Jackson, Andrew Johnson, and James Polk) combined — each with a story that helps trace the Lost Cause's long reach. The bronze equestrian statue in Memphis, for instance, was erected in the aftermath of Ida B. Wells's groundbreaking reporting on the city's racial terror lynchings. A building on Middle Tennessee State's campus was christened with Forrest's name in the wake of Brown vs. Board. In 2015, I'd become obsessed with Forrest monuments when I mistakenly wandered into Selma, Alabama's Old Live Oak Cemetery on the 50th anniversary of Bloody Sunday while looking for free parking. There, I met the Friends of Forrest, a neo-Confederate group standing guard over the cemetery's Confederate memorial circle and preparing to replace their statue of Forrest. (A previous one, put up almost immediately after the town elected their first African-American mayor in 2000, had been stolen in 2012.) Encountering Confederate cheerleaders during a major civil-rights anniversary was as unexpected as it was horrifying. In hindsight, though, post-Charlottesville, the juxtaposition feels natural.
That summer, while the Friends of Forrest unveiled their substitute bust in Selma, Dylann Roof embarked on a sightseeing tour of South Carolina's slave memorials and Confederate monuments that led him to the basement of Charleston's Emanuel AME Church, where he murdered nine African-Americans in an attempt to start a race war. The close proximity of the two closed a circle in my mind about the blood-soaked power that these statues project.
In the years since, as I traveled across the South to witness this ever-present Confederate past, I became especially fascinated and repulsed by the Nashville statue, the gnarled and nightmarish apparition of a man long dead whose ethos remains with us. Wanting a better look at the statue than the glimpse of Forrest afforded by the interstate, I got ahold of William Dorris, who owns the land upon which the statue stands, and arranged to visit it this winter. A light drizzle had just stopped when I turned off Regent Drive, dipped under the railroad bridge, and swung past an entrance gate secured with six padlocks and several "No Trespassing" signs. I parked, climbed a gravel path lined with old bath fixtures, and met Dorris at the foot of the statue. Dorris is about 80 years old and, as he described himself, "90 percent blind." He wore a black-and-white-checked shirt and bolo tie under his teal jacket, with thick-framed eyeglasses under wraparound black sunglasses. He leaned on a walking stick as we inspected the statue.
Dorris is retired now, but as the longtime owner of a bathroom outfitter for the disabled called Aqua Bath, he provided Kershaw, a lifelong friend, with the space to sculpt on-site and the materials necessary to symbolically bring Forrest back to Nashville. He estimates he's spent about $80,000 on the statue since work began in the mid-'90s.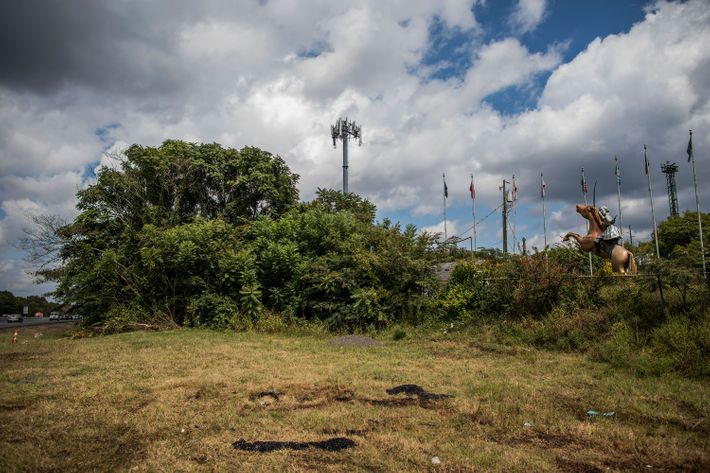 Up close, it is even more gruesome than it appears from the interstate. It's constructed from polystyrene blocks and you can see both the crude execution — "he carved it with a butcher's knife," Dorris told me — and the lingering evidence of the many attempts to deface it. Anticipating that it would be a target for its detractors, Kershaw finished the statue with an anti-graffiti polish. Dorris added a support beam to the horse's hind legs after someone tried to topple the statue by tying one end of a cable to the horse, the other to a train in the rail yard below. So far, it's held on.
It's likewise survived countless calls for the city to build a wall to block the view from the highway. When one such protest came after the Charleston Nine murders, Dorris told a local news channel that he had 100-foot flagpoles ready to hoist the Stars and Bars above any wall the city might build. The mayor of Oak Hill renewed that call last month in the fallout from Charlottesville, but to no immediate avail.
Seeing the statue up close like this I also started to pick up on a strange kind of honesty in it — the fever-dream impressionism somehow offers a more accurate view of Confederate history than, say, the stately equestrian statue under which Forrest is buried in Memphis or the bust, inconspicuous and modest, in the Tennessee Capitol. Forrest should look this ugly, this preposterous, in our remembrances.
A slave trader before the war, he made a fortune going into business during the "Second Middle Passage" — the era between the outlawing of the transatlantic slave trade in 1808 and the war, when over an estimated 1 million enslaved men and women were sold from the Upper South to the rapidly expanding plantations of the Deep South. This shift, as Edward Baptist explains in The Half Has Never Been Told, helped the Southern slave economy to grow more rapidly than any other commodity-producing economy had ever before. "He wanted a way to prosper quickly," Forrest biographer Jack Hurst writes, "and at that time and place there was probably no more profitable field than slave-dealing." So Forrest signed onto white America's Faustian founding bargain and made a fortune selling enslaved people down the river from the Adams Street slave jail he ran in Memphis.
When the war came, he used that fortune to equip a battalion, and fought so viciously in defense of the institution that Union General WilliamTecumseh Sherman called him "That Devil," his soldiers the "Wizard of the Saddle." Shelby Foote named him one of "two absolute geniuses to emerge from the war," and he became known as "The Butcher of Fort Pillow" after he oversaw the slaughter of hundreds of surrendering black soldiers and their white officers. After the war, Forrest became an early adopter of convict leasing and lent his preferred nom de guerre to the newly founded Ku Klux Klan, serving as its first figurehead, the Grand Wizard.
Kershaw, for his part, had an uncanny way of popping up at the fulcrums of 20th-century white supremacy in Tennessee, working to uphold that cornerstone cause of the Confederacy. Work that, through the decades, meant affiliating with secessionist groups, leading grassroots resistance to school desegregation, mounting a legal defense of Dr. Martin Luther King Jr.'s assassin, and carving Forrest into thousands of Tennesseans' daily commutes.
Kershaw was born in 1913 and attended a military school at Stone Mountain, Georgia, where the mountainside Confederate carving looms and where William J. Simmons had recently founded the second incarnation of the Ku Klux Klan. As an undergraduate at Vanderbilt in the early '30s, Kershaw studied geology, history, and art, and played on the football team. On Saturday evenings, the aspiring painter attended salons hosted by the Agrarians, a group of 12 poets and writers who had recently published I'll Take My Stand, a semi-fascistic tome arguing for the restoration of a distinctive white, rural, Southern identity. I'll Take My Stand reads like the Ur-text of the Make America Great Again platform, rife with racism posing as rural, white industrial discontent. Kershaw cut his neo-Confederate teeth talking late into the night about art and history with the Agrarians. He soon married Mary Noel, a niece of Andrew Nelson Lytle, an Agrarian who wrote an admiring biography of Forrest, calling him the "last ruler of the South."
Like Forrest before him, Kershaw, at the outbreak of the Second World War, enlisted in the Tennessee Cavalry. When he returned, he returned to the canvas, working to develop a distinctly Southern aesthetic in his painting. He also joined forces with another Agrarian, Donald Davidson, to found the Tennessee Federation for Constitutional Government, Tennessee's version of the White Citizens Council. The organization's mission was to fight the "great crusade" against school integration and "all the conscienceless pressure groups who are attempting our destruction." But the group lost support and withdrew from public rallies after an allegedly TFCG-affiliated segregationist detonated one hundred sticks of dynamite in Nashville's Hattie Cotton School during the 1957 protests surrounding the court-ordered integration of the city's public schools. So Kershaw went back to school, earned a degree from the Nashville Y.M.C.A. Night School of Law and landed James Earl Ray as a client in 1977. Ray had by then exhausted his appeals in fighting his conviction for the assassination of Dr. Martin Luther King Jr. There's news footage of Kershaw, walking up to the state prison out of which Ray had just tried to escape. Kershaw, in a light suit, is all collars and lapels, pushing aside his big flop of hair while promising to introduce the world to Raoul, the mysterious and as-yet-unheard-from man Ray swore was actually behind the assassination. Instead, Kershaw cut a deal with Playboy Magazine for Ray to sit for an interview in which he would submit to a lie-detector test. Ray failed the test. Soon after Ray found out that his lawyer received $11,000 for the Playboy deal, he fired Kershaw.
And so the aging lawyer re-devoted himself to painting and sculpture. He and his wife lived in an old country club in South Nashville, where he drank scotch by the lobby's fireplace at night, painting in the converted locker room in the back. He painted Southern landscapes and portraits (mostly female nudes) and produced a sculpture of Joan of Arc. Then, in the mid-'90s he asked his friend Bill Dorris for some bath-fixture material. He was ready to sculpt his masterpiece. For 18 months, he worked like a man possessed, finishing the higher portions with a cherry-picker. Near the end, he fell from the lift, knocking himself out cold. When he awoke in the hospital, he immediately dressed and returned to work.
"He wanted to back traffic up to Alabama," Dorris said of the day they unveiled the statue. Dorris used to sit in a lawn chair in front of the statue and wave at the passing cars. "I was in the paper 43 days in a row," he told me of the lead-up to the statue's dedication, our heads still tilted back to inspect the statue. "That's better than Elvis."
But when the day did come to unveil it, the heat of a July scorcher in 1998 forced Kershaw and Dorris to move the celebrations to a nearby high-school gymnasium. Still, two people fainted. Michael Hill, a history professor and explicit white nationalist then in his mid-40s, gave the keynote address, telling hundreds of sweaty Forrest admirers that, "There can be no peace until we are a separate and free people again. The day of apologizing for the conduct of our Confederate ancestors is over."
Hill was there to give the keynote address because, four years earlier, he, Kershaw, and 40 other white Southerners convened in the conference room of an Alabama Best Western for three days to discuss what they felt was the deterioration of Southern culture. The League of the South emerged from the hotel focused on the "cultural, social, economic, and political independence and well-being of the Southern people." Like the Agrarians before them, and the Confederates before them, the South they envisioned was a monolithic one, a white one. Their goal, in short, was to secede.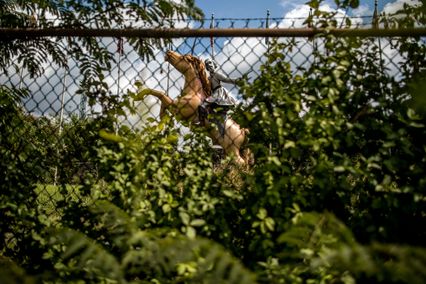 The group began by claiming they were merely a heritage group, protesting against the removal of Confederate flags, but by 2004, the Southern Poverty Law Center had labeled them a hate group and in the years since, they have dropped the pretense altogether. "Blacks were better off in antebellum times in the South than they were anywhere else," Kershaw told the Atlanta Journal-Constitution after the League demanded $5 billion in reparations, not for slavery, but for "atrocities committed against Southerners during the Civil War." More recently, the League has begun forming militias, and Michael Hill admitted that the League of the South was working for "the survival, well-being, and independence of the Southern people. And when we say 'the Southern people' we mean white Southerners. We are an ethno-nationalist movement and we want a free and independent South for our people, as our homeland." It comes as no surprise, then, that Hill was scheduled to speak at the Unite the Right rally in Charlottesville last month, while the SPLC reports that fellow members of the League punched and beat counterprotesters with sticks.
I stayed out there, under the statue, for nearly a half-hour, long after I got used to the shooting pain from a crick in my neck, turning over the long history that Kershaw's portrayal represents. I could have stayed out on that ridge looking into Forrest's dress-button eyes for hours, but Dorris invited me into the workshop next door to the statue, and so we slouched for a while in recliners, sipping bottles of water. Dorris sat facing the door, a box of shotgun shells to one side, to the other a bookcase with titles like The Jewish Confederates, Myths and Realities of American Slavery, and binders of Aqua Bath annual reports. Before I could even ask a question, Dorris launched into a defense of Forrest's actions at Fort Pillow by telling me that Sherman wrote in his memoir that he did nothing wrong there.
He continued like this for some time, reciting defense after defense of Forrest's record. It was like watching someone practice karate alone on a mat, parrying invisible challenges.
On the question of Forrest's slave-trading: The Cherokees did it, too. On the broader question of Forrest's racism: If he was racist then how did he go to sleep during the war protected by seven black bodyguards? On the frequent accusations that the statue is racist: We had a black man speak at the unveiling.
The rants were as difficult to follow as they were to listen to, though it did suggest that our current strain of political rhetoric — fact-allergic and driven by false equivalency — had its roots in the Lost Cause apologia.
At some point, Dorris's phone rang. Apparently there was a situation at the Forrest Boyhood Home, a log-and-frame cabin down the highway in Chapel Hill, Tennessee, maintained by the local Sons of Confederate Veterans group. To get it up to code so they can hold weddings there, someone had installed a handrail on the back porch — a big anachronistic no-no. He told me how glad he was to get off of the committee in charge of such things, but he still got called about it. A beat of silence. Then: "Now that I'm mostly blind, I just sit around and wait for God."