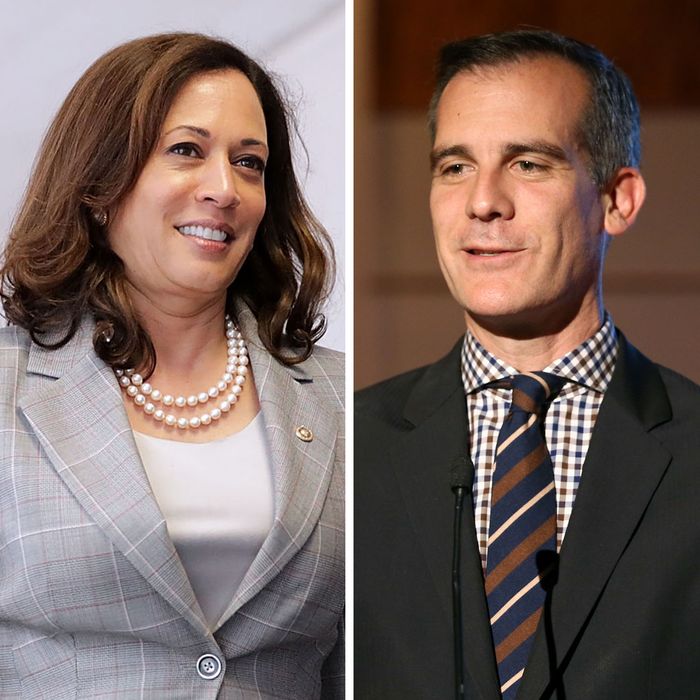 Californians Kamala Harris and Eric Garcetti could benefit greatly from a much earlier Golden State primary, but so could anyone with a lot of money and name ID.
Yes, it's far too early to speculate with any accuracy about the 2020 presidential election. But one very large shoe may be about to drop, which could have a significant impact on the nomination contest among Democrats and perhaps even Republicans. California is likely this very week to move its primary election in 2020 and beyond from early June until early March. That would place the state's giant delegate haul in line to be awarded immediately after the "protected" four early contests in Iowa, New Hampshire, South Carolina, and Nevada.
Immediately there was talk that the move (engineered by California's Democratic legislative supermajority) was designed to help California's junior senator Kamala Harris. But Harris isn't the only Californian thinking about a 2020 run: there's Los Angeles Mayor Eric Garcetti, and billionaire climate-change activist Tom Steyer, too. And for that matter, Dwayne "the Rock" Johnson is a California native.
Favorite daughters and sons aside, an early California primary would help candidates who either have vast resources or very strong prior name identification. The aging Big Three of Joe Biden, Bernie Sanders, and Elizabeth Warren would all qualify as beneficiaries on those grounds.
Contrarians will note that California tried the same stunt in 2008 and wound up being carried by Hillary Clinton rather than ultimate nominee Barack Obama. Perhaps more significantly, California's 2008 move pulled many other states to emulate it, creating a front-loading phenomenon that diluted the Golden State's specific clout.
The change would affect the Republican as well as the Democratic presidential primary in 2020, which could spell trouble for any potential challenger to Donald Trump. The president is not very popular in California generally, but has a strong following among Republicans, and under current party rules, the GOP presidential primary in California is closed to independents.
The bill, likely to become law in California, applies to down-ballot races as well as presidential primaries, but does not become effective until 2019, so it will not affect next year's midterms. But all things being equal, it will probably help prevent a huge 2020 presidential field, particularly among potential candidates who would normally plan on a gradual ascent through retail campaigning in small and relatively inexpensive states.