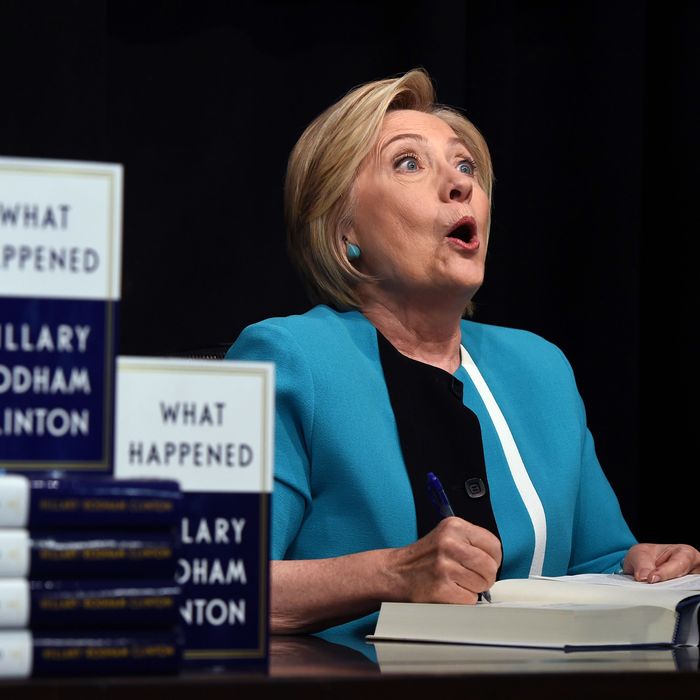 You won't believe what's in this book.
Photo: Timothy A. Clary/AFP/Getty Images
In What Happened, Hillary Clinton's 2016 election memoir, the woman who thought she would be president sets out to explain why she isn't. Clinton's distillation of the election is comprehensive and she runs through many of the theories that could explain how she lost to Donald Trump. Some she gives credence to, such as her overblown email scandal and Russian interference. Others, she dismisses, such as her alleged lack of an economic message. The 469-page tome also delves into her childhood, what she ate on the campaign trail, how she coped with losing, and her hopes for the future.
If one part of book exhibits notable spotiness though, it's the index, which, even at 22 pages, leaves out choice bits that readers really shouldn't miss. That's why we've made this addendum.
A
Ali, Muhammad, comparison to, 18
"Antichrist," telling then–Rep. Ryan Zinke that, despite his 2014 claim, she is "not actually" the, 12
B
Burgers:
George W. Bush's invitation to eat, 4
Soft spot for on the campaign trail, 92
C
Cathartic walks, xiii, 19, 24, 26, 27, 207
Clinton, Bill, aphorisms of:
Never wrestle a pig in the mud, 47
At this point in our lives, we have more yesterdays than tomorrows, 448
Clinton, Bill:
aversion to housework of, 133
handsomeness of, 161
TV recommendations of, 31
Cubs Nation, member of, 100
D
Dogs Tally and Maisie, xii, 19, 159
E
Email scandal, descriptions of
"a dumb mistake," 292
"a mistake," 220
"an even dumber 'scandal,'" 292
"boneheaded mistake," 72
"dumb decision," 289
"those damn," 289
Edwards, John, burning of for criticizing her crying in 2008, 124
F
FaceTime, chatting with grandkids on, 20, 94
Fault, acceptance of, xii, 386, 391, 392
G
Ginsburg, Ruth Bader, workout routine of, 86
H
Hair and makeup, 600 total campaign hours spent on, 88
HGTV, xiii
M
Media, the:
anger at, 219
Failure of, 223
focus on emails of, 304, 318, 319
matchmaking of, 99
respect for, 99
Memes:
"HRC in the wild," 27
"A photoshopped image of Big Bird strapped to Mitt Romney's car," 66
"But her emails!" 322
Mistakes acknowledged:
Bill Clinton's crime bill, 205
campaign's lack of urgency, 236
giving paid speeches to Wall Street, 46
"handing Trump a political gift with my 'deplorables' comment," 413
Iraq War vote, 120
not pushing back against James Comey's criticism, 311
not pushing back against Matt Lauer's email questions during a campaign forum, 221
using a private email server, 72
saying clean energy jobs would put coal miners out of work, 263
N
Ninja Squirrel Sriracha, love of, 92
P
Pepperidge Farm goldfish, disappointment in flavor-blasted version of, 91
Pizzagate, "blood-curdling" nature of, 252
Popular vote, citations of, xiv, 76, 378, 387, 39
S
Sanders, Bernie:
"insurgent left-wing candidacy" of, 73
openness to anti-choice candidates of, 131
NRA support of, 185
unrealistic proposals of, 228
Sexist double standards, 117, 119, 393, 448
T
Trump, Donald:
awkwardness of concession phone call to, 385
creepiness of, 136
"gaudy, over-the-top" wedding of, 6
ill-fitting clothes of, 105
prayers for, 32
sexism of, 114
size of, 134
"the perfect Trojan horse for Putin," 369
TV shows:
Apprentice, The, 221
Blue Bloods, 31
Daily Show, The, 222
Dancing With the Stars, 167
Dragnet, 353
Ed Sullivan Show, The, 112
Friday Night Lights, 25
Game of Thrones, 126
Gilmore Girls, 25
Good Wife, The, 31
Homeland, 353
Mad Men, 431
Madam Secretary, 31
Meet the Press, 232
NCIS: Los Angeles, 31
Sopranos, The, 166
This Is Your Life, 252
W
Wine, drinking of, 25, 27
Y
Yoga, 19, 27, 86, 300