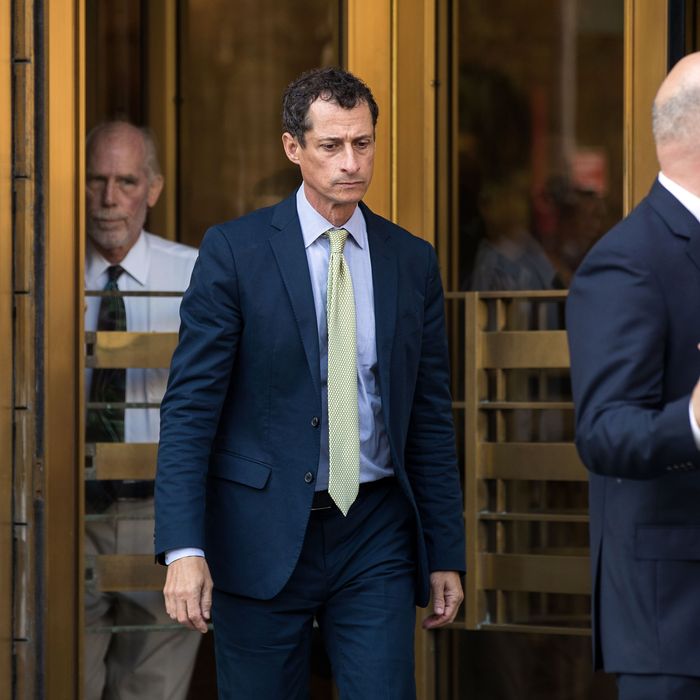 Going away.
Photo: Drew Angerer/Getty Images
In the best-selling What Happened, Hillary Clinton's post-election postmortem, she writes that Huma Abedin, her inseparable aide of more than 20 years, was "stricken" when she found out that her husband was at the center of yet another sex scandal, this time in the heat of the presidential campaign. But this one was different from Anthony Weiner's prior falls from grace. Unlike his earlier dalliances, which sunk his congressional career and later mayoral bid, the revelations this time may very well have ended someone else's political aspirations: those of Clinton herself.
Federal authorities, it turned out, were investigating allegations that Weiner was sexting with a 15-year-old. As part of that probe, his lawyers turned over a laptop to federal prosecutors, who then happened upon emails that Abedin had forwarded to her husband.
And then came the letter that rocked the Clinton campaign. "In connection with an unrelated case," wrote FBI director James Comey in a letter to Congress, "the FBI has learned of the existence of emails that appear to be pertinent to the investigation" into Clinton's emails. Two days later, on October 30, a Manhattan judge approved a search warrant allowing them to look through Weiner's laptop for evidence that it may contain classified emails from Clinton's time as secretary of State. And then two days before the election, Comey exonerated Clinton a second time.
But by then the damage had been done. "This man is going to be the death of me," lamented Abedin when she learned of Weiner's latest troubles, according to Clinton's account. His sickness may have been the death of the Clinton campaign, too — to say nothing of his own marriage.
That sordid episode in American politics ended Monday, when a federal judge in Manhattan sentenced Weiner to 21 months in prison, three years of supervised release, and possibly a lifetime on a sex-offender registry for the crime of transferring "obscene material" to a minor. The courtroom was packed well before the hearing started, but a back-facing camera trained on the lawyers' table gave those in an overflow courtroom a chance to see Weiner's pained expressions as his attorney pleaded for leniency — he had asked for probation — and a federal prosecutor requested a term of imprisonment. His face twitched, he took gulps of water, at one point he seemed to wipe tears.
When U.S. District Judge Denise Cote gave him an opportunity to make a statement, Weiner sounded remorseful: "I was a very sick man for a very long time," Weiner said, his voice breaking as he read from a written statement that made no excuses for the pain he caused. "I stand before you because I victimized a young person who deserved better." He hoped that a sentence in the community rather than behind bars would be good for his son, Jordan, whom he called his "salvation," as well as others who may be struggling and needing counsel for the same ills that destroyed him. Abedin herself had sent a letter to the judge ahead of the sentencing asking for mercy — not for Weiner's sake, but their for son, whom she described as "the light of our life." She was not at the sentencing.
Cote, an appointee of President Bill Clinton, seemed to struggle with the decision she was about to make. One the one hand, she acknowledged she was dealing with a defendant who is unwell: "He has a disease that involved sexual compulsivity. Some call it a sex addiction," she said, as she credited the treatment he'd been receiving, which she considered "effective." For a moment, it seemed as though she was leaning toward probation — especially when she suggested that Weiner could "make an enormous contribution to society" and provide a "true public service" if he somehow became an advocate for people suffering from his same disease.
But on the other hand, she recognized Weiner committed "a serious crime that deserves serious punishment." And that the "strong compulsion" that had already led to two very public downfalls had reared its head once again. Treatment and probation alone may not suffice to cure him this time around. Something more was needed.
In the end, punishment and the need for deterrence won out. "There is a history here that simply can't be ignored," a federal prosecutor charged earlier in the hearing, noting that only a "meaningful term of imprisonment" would be appropriate. The federal government wanted between 21 and 27 months. Cote chose the low end of that recommendation.
When Cote imposed her sentence, Weiner's head fell and he placed his left hand over his head. The courtroom cleared quickly, and several reporters ran outside to recover their electronic devices and report the news. The usual throng of television crews and cameras swarmed the outside of the federal courthouse on Worth Street, awaiting the defendant's exit.
Weiner was ordered to report to federal prison on November 6 — one year to the day Comey alerted Congress investigators had found no Clinton emails in Weiner's laptop worth the FBI's time.