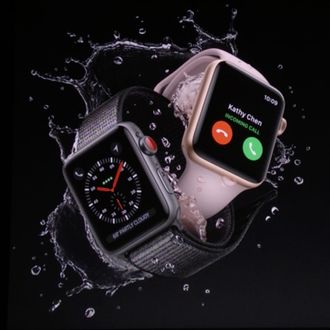 In its keynote address this afternoon, Apple announced the latest edition of its wearable, the Apple Watch Series 3. It's, you know, a watch — but with one huge improvement: an LTE connection, meaning that you can keep the device connected to the internet without pairing it with an iPhone. It also means you can receive calls using the same number as your cell phone, and use maps and Find My Friends as well.
The LTE connectivity marks a major upgrade for the Apple Watch, since, after all, what's the point of a smartwatch if you need to keep it in proximity to your phone the entire time? The current models of Apple Watch retain some limited functionality — like, uhh, telling time — when they're not paired to the phone, but all the good smartwatch stuff requires a connected iPhone. And it seems to work well: In a dorkily charming demo conducted live onstage, Apple COO Jeff Williams called Watch team member Deidre Caldbeck from his Apple Watch to hers — while she was paddle-boarding in the middle of a lake.
The new watch goes on sale September 22 and you can preorder it starting on September 15. Prices start at $329, but if you're feeling fancy, you can get the deluxe model for $399. In the U.S., the watch works on AT&T, Sprint, T-Mobile, and Verizon. With AT&T and Verizon, at least, an LTE-connected Apple Watch will cost an extra $10 a month.
In addition to LTE, Apple showed off a few other new capabilities for the Series 3 watch. That includes functions like enhanced heart-rate information, and Apple Music and AirPod compatibility. Apple did not say anything about whether or not the Series 3 will help users cheat at baseball more efficiently.