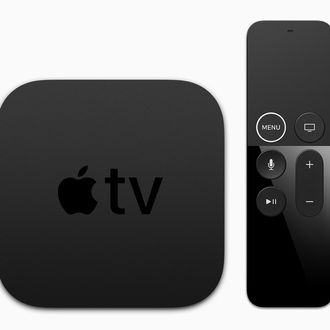 If you've ever found yourself watching Planet of the Apps or Carpool Karaoke and thinking to yourself, "Damn, I wish I were watching James Corden sing in the high resolution my eagle eyes demand," well, buddy, you're in luck. Among other new products announced today, Apple has unveiled a new version of its set-top Apple TV, which now outputs video at 4K resolution, the ultra-high-definition format with which most high-end TVs are compatible.
The box also supports HDR, or "high dynamic range," for more vibrant colors on TVs that support the feature. It's got the same chip that's in the iPad Pro, and boosted CPU and GPU performance. That's pretty important, given that Apple is bringing games to the box. The company showcased a new game, Sky, from acclaimed developer thatgamecompany. It was controlled using the remote.
The new Apple TV will start at $149 for 32GB, but you can also get 64GB for $199. That puts it a bit above offerings like the Amazon Fire TV, Google Chromecast, and Roku. It goes on sale September 22, but you can preorder it this Friday.
Along with 4K output, Apple also announced that they're bringing live news and sports to the TV app, with updated notifications that will alert you to close games, and that HD iTunes purchases will be updated to 4K for free. But we know you're just here for the app reality show.