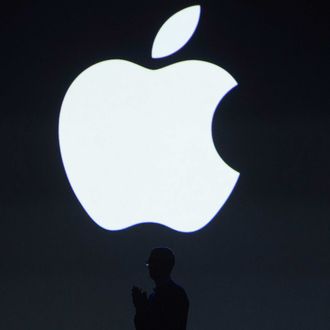 Try to pretend you're not excited to drop a couple grand.
Photo: Josh Edelson/AFP/Getty Images
Once a year in September, Apple emerges from its Cupertino stronghold to bring us all-new iPhone models to go into debt for. This year, though, is special: It's the ten-year anniversary of the original iPhone, and Apple is developing a special, $1,000 "iPhone X" with a new, bezel-free screen. Here's a comprehensive guide to the iPhone X and everything else that probably will (and won't) happen at one of the world's most overhyped tech events of the year:
TLDR: New iPhones, an Apple Watch with built-in LTE, Apple TV with 4K, lots of updates, and some firmer release dates for products we heard about this June.
Not one, not two, but THREE new iPhones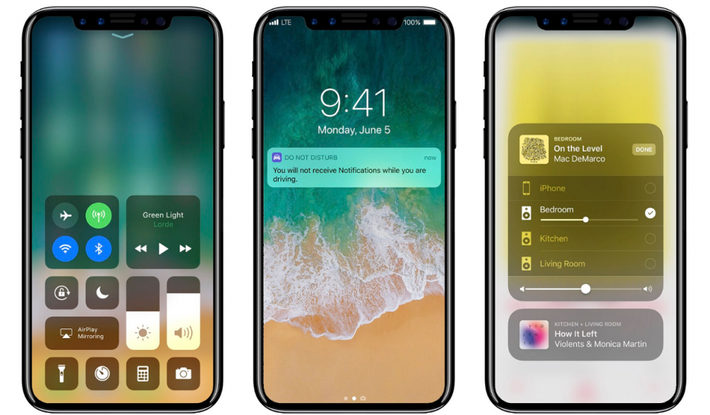 In the months leading up to this event the vast majority of the speculation has been about the next iPhone: Will it be called the iPhone 8 or the iPhone X? Will you unlock it with your face? Is the headphone jack ever coming back?
And though the questions and rumors surrounding the iPhone That Was Promised only grow as we inch closer to Keynote O'Clock, there is one thing that we can say with complete certainty: Whatever the shiniest, newest addition to Apple's lineup is, it will be revealed tomorrow.
As for what exactly that means is still to be determined. The most credible rumors as of now come from a recent leak of iOS 11, Apple's newest operating system. This leak more or less confirmed that what will be unveiled on stage tomorrow isn't just one new phone, but three. It seems that Apple has decided to forgo the usual demi-update route — which would have given us an iPhone 7s and iPhone 7s Plus — and is instead releasing both a line of iPhone 8's (meaning a presumably standard-size iPhone 8 and the larger iPhone 8 Plus) and the cryptically named iPhone X. (And because I know you're wondering: A friend who works at Apple insists that this is pronounced 'iPhone Ten,' as in the roman numeral version 'X'.)
Naming details aside, this information raises a variety of new questions regarding the specifics of Apple's latest line of phones. All the major leaks have been pretty much in agreement on a number of aspects so far: The new iPhone will be bezel-free, with an edge-to-edge OLED screen that you can unlock with your face (because there's no home button). All signs also point to wireless charging and a fancy new dual camera being likely as well. But the iPhone 8/iPhone X reveal complicates things: Will these features be included in both phones, or just one? How is the iPhone X going to be different than the 8? Will it just be a premium version of the 8, or something different entirely?
A shiny new Apple Watch (with LTE!)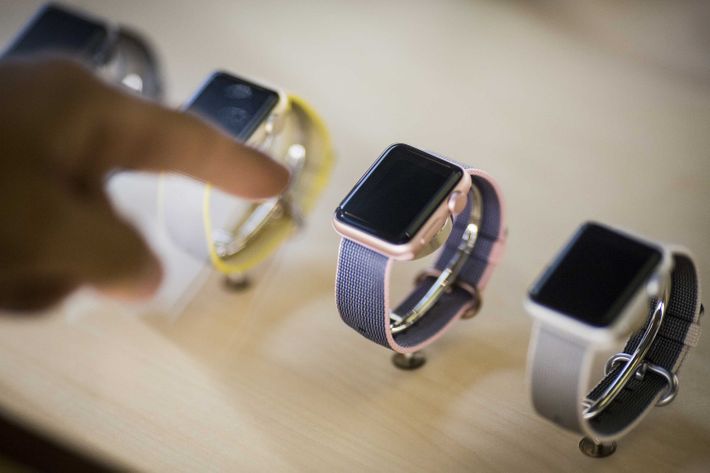 You can pretty much bank on the fact that there will be some major Apple Watch–related news coming your way tomorrow; the smartwatch is definitely due for an upgrade. Prepare for the addition of key features like built-in LTE (similar to the iPad's move to 3G back in 2010) which would allow the device to function without needing to be paired to a nearby phone.
Apple TV in 4K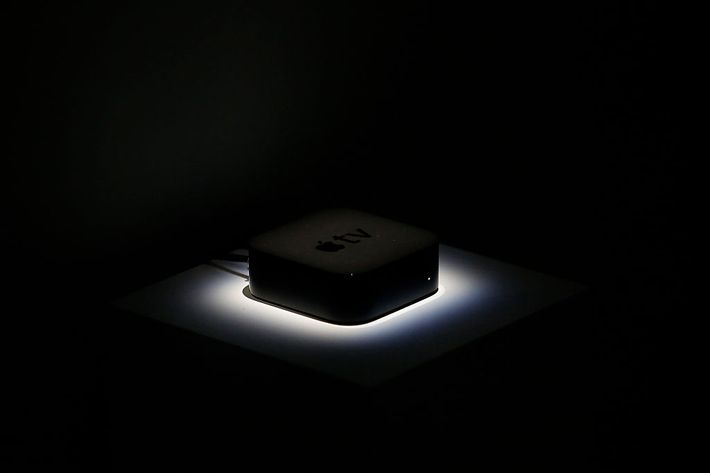 It's also extremely likely we're going to receive some sort of update on the Apple TV, which hasn't seen an update in nearly two years. According to early reports, the new version of the streaming device will likely be capable of playing 4K video (higher resolution) and HDR content (meaning brighter, more vivid colors). Apple has lately been trying to expand into the streaming and content production market, so it makes sense they'd want to upgrade the Apple TV to bring you its app-creation reality show Planet of the Apps in full streaming HDR 4K. Gary Vaynerchuk never looked so good!
An update to AirPods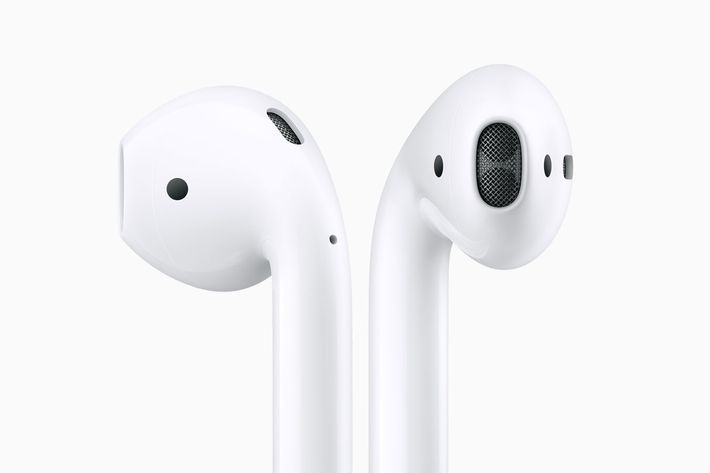 AirPods, Apple's wireless earbuds, were roundly mocked by tech writers when they were announced last year, but they've become surprisingly popular, showing you why Apple is Apple and why tech writers are tech writers. We can look forward to a slightly tweaked new model this year: Leaks from the iOS 11 firmware suggest that the new line will look more or less the same as the old pair, with a small change to the charging case.
Updates, release dates, and a whole lot of demos, too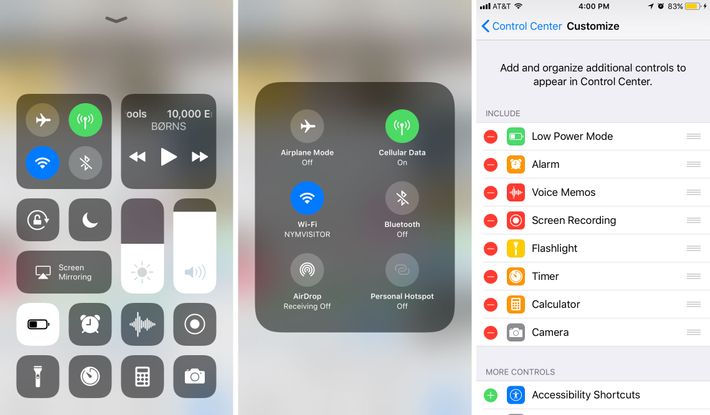 There are a lot of other little things to look forward to: Specifically, it's extremely likely that tomorrow will bring official release dates for iOS 11 — which is more or less out of beta at this point —macOS High Sierra, and WatchOS 4. Tradition points to a release of the new iOS in the next week or so, with WatchOS, and macOS coming in the next month or so, but these dates will all be officially confirmed tomorrow. We will also likely get another onscreen demo of ARKit, which honestly might be the sleeper hit of the new iPhone.
TLDR: Cheap iPhones, rose gold iPhones, new computers, and prompt shipping.
A reasonable price for the iPhone 8
Rumors have the first-tier price for the flagship iPhone starting at $999 — and the premium model will likely cost you somewhere in the $1,299 range — but this information is somewhat complicated by the recent iPhone 8/iPhone X news. Now that the 7S line is out the window, there's no telling whether Apple will be presenting a semi-affordable line of phones at all.
For your love and dedication to rose gold to be rewarded
To paraphrase Ponyboy Curtis: Nothing rose gold can stay. The lovely color is likely getting the boot tomorrow, with multiple rumors confirming it will be replaced by the coppery-looking 'blush gold.'
New MacBook Pros
Apple updated its MacBook Pro line this June at WWDC, so it's extremely unlikely that we're going to get anything new this time around. Any update will probably be announced around late-October or November at the earliest.
An iPhone 7S/iPhone 7S Plus
The iPhone 7S is dead and gone, folks. Incremental updates (as well as incremental price increases) be damned. All hail our new overlords, the iPhone 8 and X.
Anything close to resembling speedy delivery
Let's be real here, this is Apple we're talking about. We're all going to preorder whatever ridiculously expensive gadgets and gizmos they announce tomorrow as soon as we possible can, and then grumble as the ship date is pushed back further and further (perhaps even to as late as next summer) and then immediately get excited to do this all again next year. C'est la vie.
If you have nothing better to do with your afternoon, you can catch the livestream of Applepalooza 2017 here tomorrow, September 12, at 1o a.m. PT/1 p.m. ET. However, if you want to stay informed on the latest Apple news without watching it yourself, check out our coverage of the event here. We'll be doing explainers, guides, and a whole lot more.