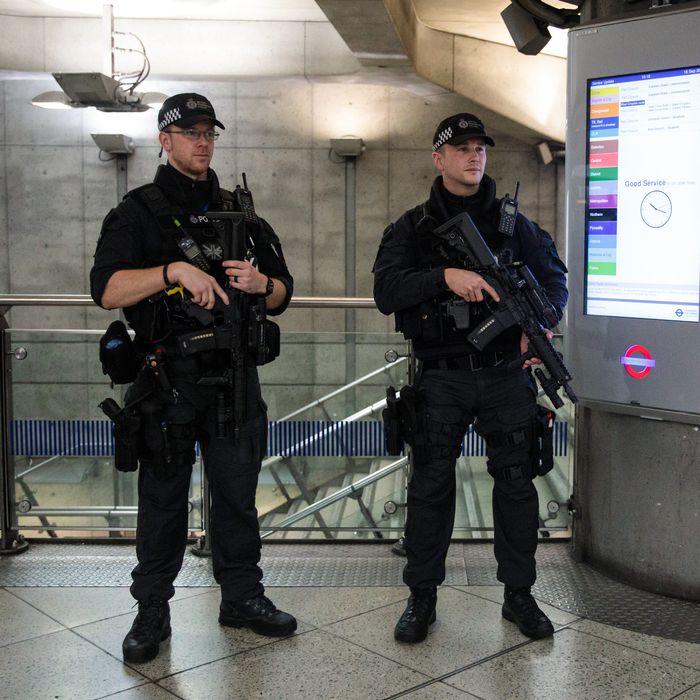 Armed police patrol the Westminster Underground station on Saturday in London, England.
Photo: Jack Taylor/Getty Images
Police in the U.K. have arrested an 18-year-old man who is suspected of involvement in the terrorist attack on a train at a London Underground station on Friday morning. Police made the "significant arrest" in the port town of Dover, about 80 miles southeast of London, on Saturday morning. The suspect has not been identified, and the investigation into the bombing is ongoing.
Hours after the arrest, police also raided a house in Sunbury-on-Thames, evacuating the surrounding neighborhood as a precaution.
U.K. authorities raised the country's threat level to "critical" on Friday night, signaling that an imminent terrorist attack was expected. Police have stepped up their patrols since the bombing, as well, particularly in high-risk locations
At least 30 people were injured when an improvised explosive device went off on a crowded train at the Parsons Green Tube station in southwest London on Friday morning. The device seems to have been set off prematurely, and may have malfunctioned, leaving some victims with flash burns but no life-threatening injuries. Pictures of the device suggested it was some kind of bucket in a shopping bag, and the British security minister confirmed on Saturday that the material used in the explosive was TATP, the same chemical explosive used in the deadly Manchester concert attack in May and one which is popular with ISIS-linked terrorists. ISIS claimed responsibility for the attack on Friday through one of its media channels, but offered no evidence to back up the claim.