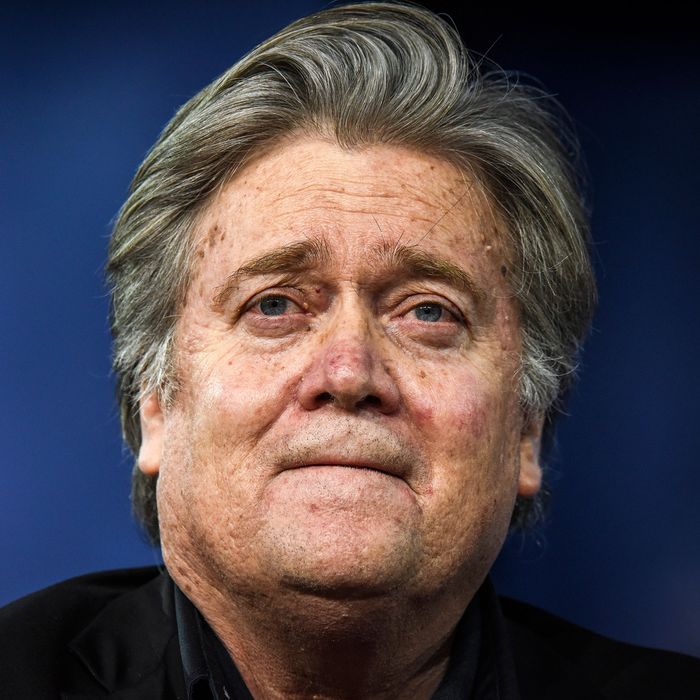 Trump's self-declared "wingman."
Photo: Bill O'Leary/The Washington Post/Getty Images
On Sunday night, 60 Minutes aired an interview with President Trump's former senior adviser Steve Bannon, who left Breitbart News to join Trump's campaign last year and rejoined the right-wing website the same day he left the White House, in August. In the interview, Bannon criticized anyone in the White House who would not stand 100 percent behind the president. "When you side with a man, you side with him," he said more than once, declaring himself Trump's "wingman."
The editors of his website apparently did not get that message. On Wednesday night, after Democratic leaders announced a deal with President Trump to "enshrine the protections of DACA into law," Breitbart News turned on Trump.
Soon, "Amnesty Don" was trending on Twitter in Washington, D.C., and a Breitbart News editor anonymously told the Washington Post's Robert Costa that, "This a betrayal of the highest order. Donald Trump should be ashamed of himself."
By Thursday morning, Breitbart News' homepage was screaming with these headlines:
"DEMS DECLARE VICTORY AS TRUMP CAVES ON DACA …"
"UPDATE: TRUMP TWEETS — 'DOES ANYBODY REALLY WANT TO THROW OUT GOOD, EDUCATED PEOPLE?'"
"…POTUS SEZ 'WALL' IS ACTUALLY JUST RENOVATION OF OLD FENCES …"
"…STEVE KING: IF REPORTS CORRECT 'TRUMP BASE IS BLOWN UP, DESTROYED, IRREPARABLE'…"
"… HANNITY: TRUMP MUST 'KEEP HIS PROMISE OR IT'S OVER!'"
The White House has already pushed back on the Democrats' characterization of this agreement as a done deal. But even if there's no agreement yet, it seems to be coming. After tweeting Thursday morning that the there is "no deal" and insisting that his prized border wall "is already under construction," Trump sent a tweet that could have come from Chuck or Nancy, as he likes to call them.
The answer to his question seems pretty clear: The people who want to throw out those described are the tens of millions of Americans who voted for the guy who said he would do just that.