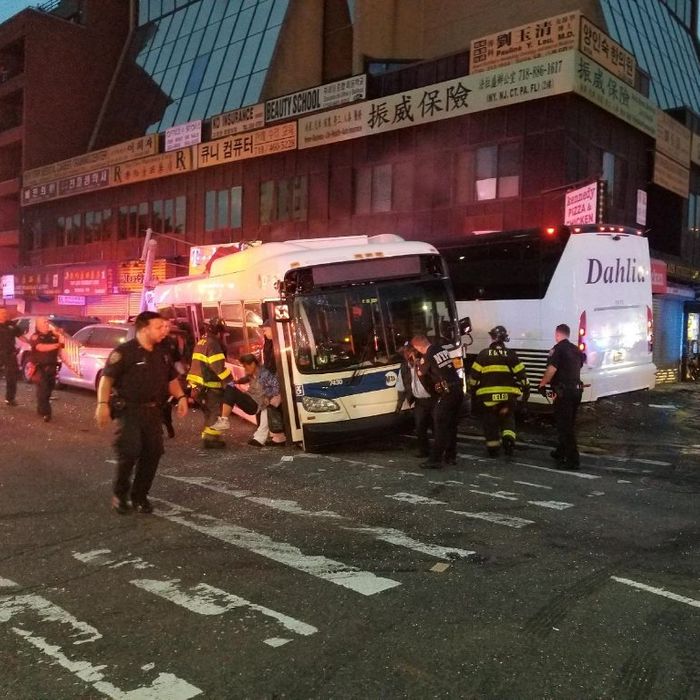 Crash in Queens.
Photo: NYPD
A bloody collision between two buses in Flushing, Queens, has left at least three people dead. At least 16 were injured, and several of them are in critical condition, Mayor de Blasio said Monday morning.
A Q20 MTA bus made a right-hand turn on Northern Boulevard when it was struck by the private-charter bus from Dahlia Travel and Tours, around 6:15 a.m. Monday morning. The force of the crash apparently sent the Dahlia bus hurtling into the storefront of Kennedy Fried Chicken, setting the building ablaze. Firefighters extinguished the flames, but crews are trying to shore up the structure, which appeared to be badly damaged after the impact from the bus, reports WCBS 2.
At least one of those killed was a pedestrian whose body was pinned beneath one of the buses. The driver of the Dahlia charter bus also died, and at least one MTA bus passenger, according to an NYPD official. The MTA bus driver — a ten-year veteran — was injured, but did not suffer life-threatening injuries. He is reportedly cooperating with authorities.
Surveillance video from the scene was released later Monday, which shows the Dahlia charter bus plowing straight into the MTA bus:
The mangled buses still blocked the normally busy intersection as NYPD and FDNY officials swarmed the scene. Mayor Bill de Blasio, who with MTA chair Joe Lhota arrived at site a few hours after the crash, said it was "just shocking – you see the scene over there. Hard to compare it to anything I've ever seen, the sheer destruction from the impact of this collision."
The mayor said it was too early to tell exactly what happened, as the investigation had just begun. "I want to caution that we only have limited information at this point," he told reporters.
Lhota called it "a sad day when three New Yorkers perish on the way to work." The MTA chair also stressed that the investigation is ongoing, but said early signs indicate speed might have been a factor, as the "buses spun around."
The intersection near the crash is considered one of the more dangerous in Queens. Other intersections along Northern Boulevard have been slated for improvements under the city's "Vision Zero" plan.
According to the New York Times, the company that owns Dahlia Travel and Tours was involved in another dangerous crash last year. A bus, which was operated by a company called VMC East Coast, was involved in an I-95 crash in Connecticut that left 30 people injured.
This post has been updated throughout.